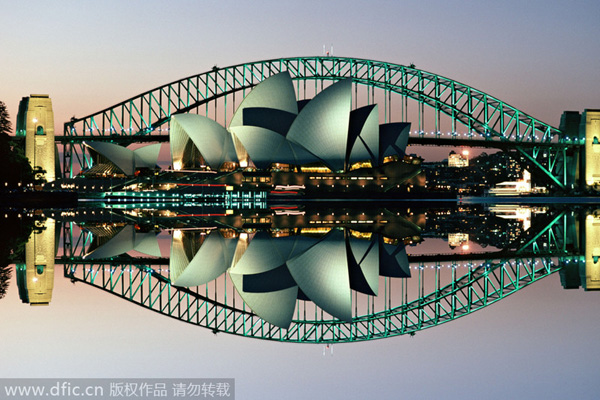 Sydney Opera House and Bridge in Australia, Nov 11, 2014. [Photo/IC]
China and Australia are expected to sign a landmark free trade agreement in the second quarter of this year and implement it from the fourth quarter onwards, an Australian official said on Wednesday.
Both nations concluded the FTA talks in November and are expected to sign an agreement after completing the legal review and translation of the text, said Lachlan Crews, economic counselor of the Australian embassy in China.
After the necessary domestic formalities are completed, the two nations will work on the diplomatic measures that are necessary to implement the agreement, he said, adding that a suitable date for implementation would be fixed subsequently.
President Xi Jinping and Australian Prime Minister Tony Abbott had witnessed the signing of the declaration of intent on concluding the FTA talks in Canberra in November.
Under the FTA, Australia will eventually reduce tariffs to zero on all goods imported from China, and China will remove tariffs on the vast majority of Australian goods. It will also include opening-up of numerous service sectors, a simplified review procedure for investments, most-favored-nation treatment, favorable market access rules and market transparency.
Two-way investments between the two countries are set to increase with relaxed regulations, said Chuan Tran, executive officer of the Australian Chamber of Commerce South China.
The need exists for Australian expertise in the service industry to fill the gap as the Chinese economy is shifting from manufacturing to service, he said.
"The Australian senior living industry welcomes the free trade agreement with China," said Susan Malone, executive director for the China operations of Australian retirement property management company Independent Management Group.
"This will allow the aged-care operators set up their own companies without forming a joint venture with Chinese companies. This can also facilitate more operators to come," she said.