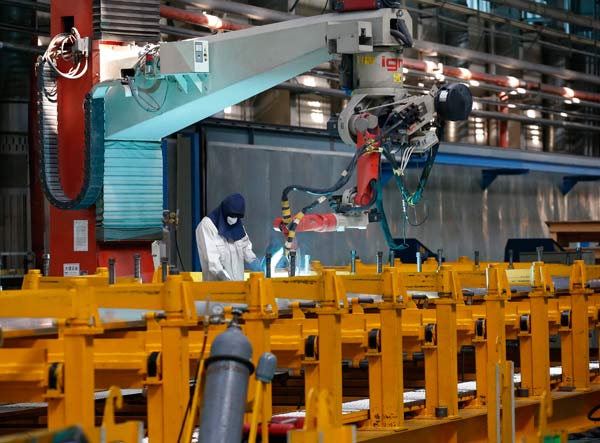 A worker on a production line assembles parts at China CNR's Tangshan factory on Wednesday. KIMKYUNGHOON/ REUTERS
They have established a working group to study future strategy and deal with issues such as overseas anti-trust scrutiny, Yu said.
"A successful merger of China's top two train manufacturers will avoid inner competition and forma combined competitive edge," he said.
CNR's exports increased 68.6 percent year-on-year to $3 billion last year.
"China was in talks with 28 countries, including the United States, Russia, Brazil and Thailand on high-speed projects," he said.
China Railway Corp spokesman Han Jiangping said China and Russia have established a working group to promote a project linking Moscow and Kashgar.
Han also confirmed that China Railway Corp established an international limited company in December.
"The purpose of forming this company is to try to build a platform that can promote communication with international railway peers," he said.
China's railway equipment exports accounted for 10 percent of the global market last year, Wang Xiaotao, vice-minister of the National Development and Reform Commission, said last week.
China Railway Group, one of the nation's largest infrastructure construction contractors, said on Wednesday that it will raise as much as 12 billion yuan through private placement of A shares to fund five projects, Bloomberg reported.
The issuance will consolidate the company's financial foundation, providing rich financial resources to develop our business and investment, Chairman Li Changjin said in a news release.