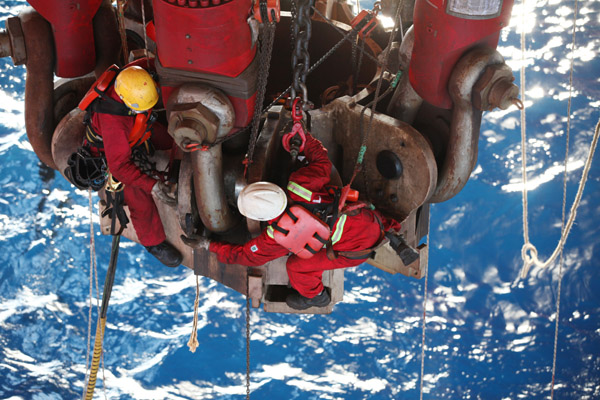 Workers on an oil-drilling platform in the South China Sea. CNOOC has fixed the net production target for this year at about 475 to 495 million barrels of oil equivalent. [Photo/Xinhua]
Energy company plans to control annual output for three years, say officials
CNOOC Ltd, China's biggest offshore oil and gas producer, said it will control output in the next three years as well as cut capital expenditure, in a bid to counter challenges from falling crude oil prices.
CNOOC has fixed the net production target for this year at about 475 to 495 million barrels of oil equivalent (BOE), which is 10 to 15 percent up from the estimated output of 2014 (432 million BOE). Production from China and overseas accounts for approximately 67 percent and 33 percent respectively.
The net production targets for 2016 and 2017 are 509 and 513 million BOE respectively, representing 7 percent and 1 percent year-on-year growth, Zhong Hua, chief financial officer of the company, said in a news release on Tuesday.
He said the company will apply "prudent principles" for operations, which include cutting the capital expenditure budget to about 70 to 80 billion yuan ($11.2 to $12.8 billion) in 2015, a 26 to 35 percent decrease from the estimated realized capital expenditure for 2014.
Exploration, development and production account for about 21 percent, 67 percent and 10 percent of the expenditure respectively.
Li Fanrong, CEO of the company, said CNOOC will pay more attention to cash flows against the backdrop of a "macro environment of low oil prices", as well as "optimize asset portfolio and capital allocation".
But he ruled out the possibility of closing down some unconventional projects in the US and Canada, including a shale gas project, though they are incurring huge investments and not generating any profit in the initial stages.
"A short-term closure of the projects will affect the performance in future," he said.
"This industry is cyclical. And I have faith in oil prices for the middle and long term," he said.
Li Li, a research and strategy director at ICIS-C1 Energy, a consultancy in Shanghai, said the strategy of CNOOC showed its prudent expectations for oil prices in the next three years.