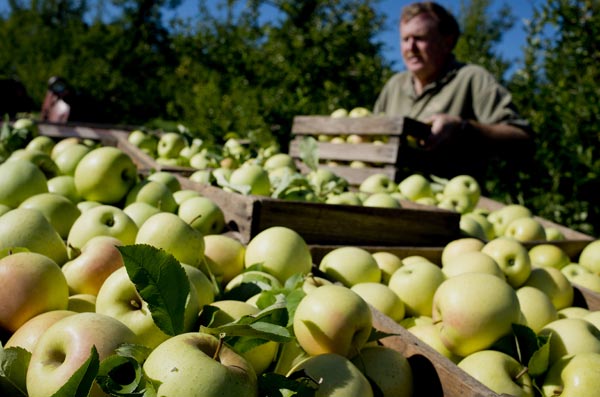 Ralph Hugus, owner of Hugus Fruit Farm, loads crates of apples onto a trailer in Rushville, Ohio, the United States. China has agreed to import all varieties of apples from the United States, the US Department of Agriculture said on Monday. [Photo/Agencies]
China has agreed to import all varieties of apples from the United States, the US Department of Agriculture said on Monday.
The green light for the shipments follows an agreement signed by the USDA and China's General Administration of Quality Supervision, Inspection and Quarantine in San Francisco, California over the weekend.
"The efforts will result in high quality, fresh US apple varieties being made available to consumers in China and boost sales for American apple producers," said Tom Vilsack, the US secretary of agriculture, in a statement.
US fresh apple exports were valued at more than $1 billion in 2013. The USDA estimates that the agreement can increase total apple exports by around 10 percent, with a target of shipping $100 million of apples to China every year in two years.
Previously, China only allowed the Red Delicious and Golden Delicious varieties to enter the country but suspended orders in August 2012 after repeated detection of apple pests. The suspension was lifted in October, 2014.
Apple imports from the US surpassed 54,446 metric tons and were valued at $55 million during the 2010-11 marketing years.
The Washington Apple Commission, representing producers in Washington State that account for 90 percent of all US apple exports, has been advocating for China to open its doors to the many varieties of apples grown in the state since 1995.
A key reason is that the Red and Golden Delicious now account for less than 40 percent of Washington's overall production, meaning that over 60 percent of its apple varieties have been barred from the Chinese market.
Wang Miao, marketing director of the commission in China, told China Daily that a full access to the Chinese market is an important opportunity for Washington's apple industry to expand exports.
"Although China is the largest global producer of apples, domestic varieties are very limited with Fuji apples accounting for around 85 percent of all production," he said. "We, on the other hand, have eight main varieties and more than 10 'club' (newly cultivated and limited production) varieties ready to be introduced to the Chinese market."
With quality and variety on offer, Wang said importers will be able to pick the products that best suit the taste of their customers.
Jiang Wei, senior public relations manager at Wal-Mart China, said that the retailer directly imports Red Delicious apples from the US and it has been welcomed by customers for its high quality and competitive prices.