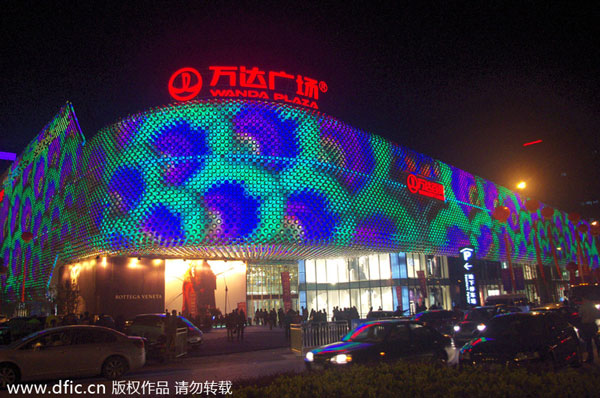 Photo taken on Sept 28, 2013 shows the night view of the Wanda Plaza in Wuhan, Hubei province. [Photo/IC] 
Dalian Wanda Group, China's biggest commercial real estate conglomerate, said on Monday it is investing $1 billion in a prime property development close to Sydney Harbour, its second large investment in Australia.
The amount includes A$415 million ($327 million) paid to the United States-based private equity firm Blackstone Group for office building Gold Fields House, an undisclosed sum for an adjacent building, Fairfax House, as well as the cost to construct a complex that will consist of a hotel, apartments and retail projects.
The purchase adds to a string of deals as Wanda diversifies away from a weak domestic market and highlights growing Chinese investment in Australia's red-hot property market.
Australia was the third top destination for Chinese property investment after the US and the United Kingdom in the first 11 months of 2014, with around $2.1 billion in inbound investment, according to real estate consultancy firm Savills.
China's Country Garden Holdings and Greenland Group have also made large investments in Australia.
Wanda is backed by China's fourth-richest man Wang Jianlin and last year the group's Dalian Wanda Commercial Properties Co Ltd raised $3.7 billion through a Hong Kong listing.
"We look forward to creating a new Sydney landmark," Wanda said in a separate statement from Blackstone, adding that the complex will include a 185-meter tall building.
Related: Top 10 Chinese companies to look out for in global market in 2015
As more and more Chinese companies cross borders to expand their business, people might be curious about which might do better in the new year.
Joel Backaler, a contributor to Forbes and the author of China Goes West: Everything You Need to Know About Chinese Companies Going Global, shares his predictions for top 10 Chinese companies to watch out for in 2015.
These rankings were based on a combination of factors, including their existing global presence, pending overseas transactions, and internationalization of their management team and user/customer base.
Let's take a look of these companies.
No 10 Bright Food
Shanghai-based Bright Food Group Co made headlines for high-profile investments in the UK and New Zealand. The company is aiming to achieve 25 percent of revenues from overseas by 2017, according to Joel Backaler.
Lyu Yong Jie, chairman of Bright Food Group Co said in June that the company is seeking acquisitions and has the ability to pay as much as 10 billion yuan ($1.6 billion) for a target, according to a China Daily report.
He added that Bright Food isn't interested in deals that are "too small" and prefers to work on one acquisition at a time.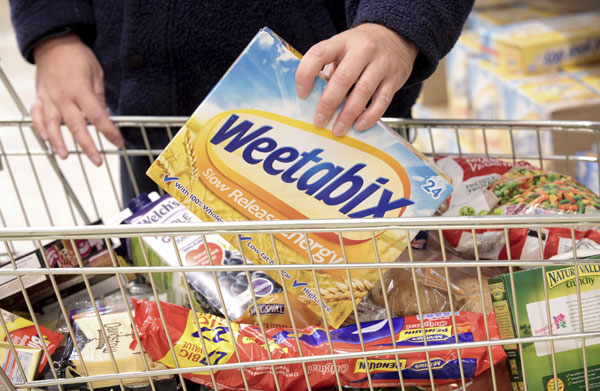 A shopper places a box of Weetabix into a shopping cart. China's Bright Food Group Co Ltd paid nearly $1.12 billion to acquire a 60 percent stake in the cereal brand. [Photo/Agencies]