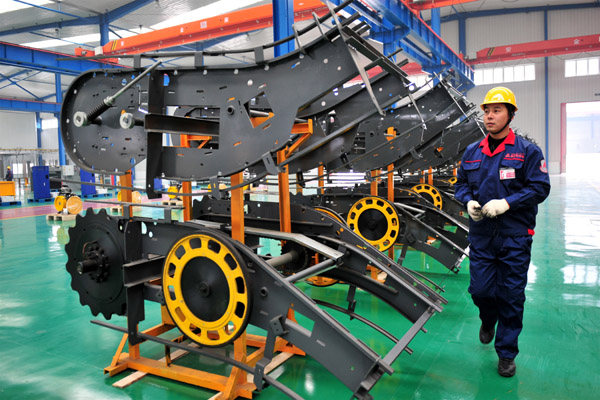 A technician checks the elevator parts in a company in Yichang city, Central China's Hubei province, Jan 13, 2014. [Photo/IC]
BEIJING - The highly anticipated performance sheet for China' s economy in 2014 is finally out.
Unsurprisingly, the country's period of miraculous break-neck growth is over, but let' s get over it. The end of the high-speed growth era does not spell an end for China's economy as ongoing reforms continue to power the country's "new normal".
The Chinese economy grew 7.4 percent in 2014, slightly below the government's target of 7.5 percent, registering its weakest annual expansion since 1990. The country has made miracles by racing at an average double-digit growth rate in the past decade despite weak global performances.
But the country's breathtaking growth ended in 2014, with pain being felt in many areas, with some of it purposely self-inflicted by the government's pushing ahead with reforms on all fronts. For example, measures to deleverage the shadow banking system have choked credit expansion, hitting home sales, industrial output and other cyclical sectors.
However, a hard landing scenario is unlikely. The surgery to restore a sustainable and healthy economy has just started, but a rejuvenation is not far away, with the gradual completion by 2020 of the grand reform agenda set by a key CPC meeting two years ago.
Reform is inevitable. The demographics underpinning China's economic growth are changing. The labor force is shrinking; export is floundering; state economy is underperforming. The good news is there are increasing numbers of better educated and trained talents, growing diversified consumption demands and increasingly innovative private firms.
Alibaba, the Chinese ecommerce juggernaut, awed the world by scoring the largest IPO in history in September and has wired online shopping habits into the country's increasingly affluent consumers. Xiaomi, a rising Chinese consumer electronics producer, became the world' s most valuable technology startup last December.
More Alibabas and Xiaomis are expected to prop up in the world's second largest economy, as the country's reform-driven and innovation-led new normal economic growth moves on, impressing the world with new Chinese growth stories.
It's not an easy job to juggle with reform and growth, which may decide the country's economic performance, but the government has the resolve and an array of policy tools, along with an arsenal of domestic deposits and foreign reserve at its disposal to perform the difficult balancing act as they know quality means more for long-term growth.
Progress has been made and the pain will go on for a few years as reforms push ahead and new normal growth dawns. The Chinese growth story is to be continued in a new manner. Let's wait and see.