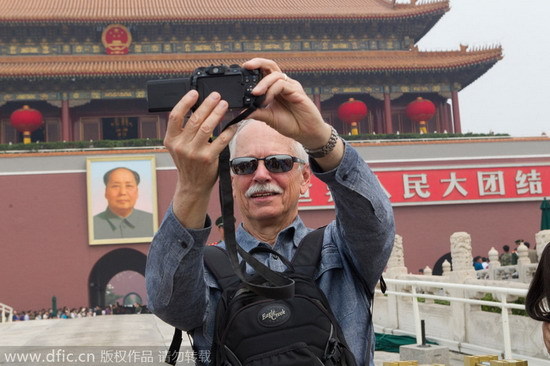 A foreign tourist takes selfies in front of the Tiananmen Rostrum during the May Day holiday in Beijing, China, May 1, 2014. [Photo/IC]
New policy designed to boost spending on well-known brands will cover purchases made by tourists nationwide
China has introduced a nationwide tax refund policy for the first time to encourage spending by more overseas tourists.
But a closer look at the plan suggests that the country has a lot more to do to achieve this goal, according to observers.
Overseas visitors will soon be able to claim tax refunds on purchases across China, the Ministry of Finance said over the weekend.
Tourists from overseas and those from Hong Kong, Macao and Taiwan who have lived on the Chinese mainland for no more than 183 days will be eligible for a rebate of 11 percent on consumer goods bought at designated department stores.
The minimum purchase to qualify for a tax refund is 500 yuan (about $81) at any one store in a day.
A pilot tax refund program was launched in Hainan province on Jan 1, 2011. The new policy announcement increases the products that are eligible for refunds and the purchasing sites.
It is unclear how many cities will apply to join the plan. Southern Metropolis News reported that Hengqin, an area near Macao, will apply to join, but it is not known if Guangzhou, the capital of Guangdong province, will do so.
However, according to experts and expatriates, the biggest problem the policy faces is that most foreign tourists, unlike their Chinese counterparts visiting overseas countries, do not come to China to buy well-known brands.