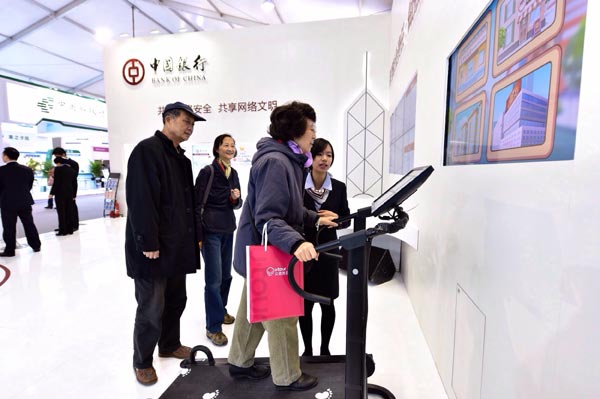 The Bank of China Ltd stand at a services expo in Beijing. New yuan-denominated loans rose 10 percent to 9.78 trillion yuan in 2014 from 8.89 trillion yuan for 2013, according to figures released by the People's Bank of China on Thursday. [Photo/China Daily]
Experts say credit slowdown in December reflects shift toward 'new financial normal'
Money supply growth remained tight in China during December with lenders extending far less credit than in November, reflecting the country's "new financial normal", experts said on Thursday.
According to data released by the People's Bank of China, the central bank, China's broad M2 money supply measure grew 12.2 percent in December, far below market expectations and down on the 13.6 percent growth in M2 recorded in 2013.
During the period Chinese lenders disbursed 697.3 billion yuan ($112.55 billion), central bank data showed on Thursday.
New yuan loans for the year rose by about 10 percent to 9.78 trillion yuan from 8.89 trillion yuan for 2013.
"The slowdown in M2 money supply has reflected-in terms of monetary operation-the restructuring of the Chinese economy, the narrowing of off-balance-sheet financing, the slowdown of expansion of the sectors that have excess capacity, and the tightening of regulations in the interbank business," said Sheng Songcheng, head of the statistics and analysis department of the PBOC.
Other features of the new financial normal include the decrease in funds outstanding for foreign exchange, the narrowing of the ratio of current account surplus to GDP, and changes in the central bank's ways of injecting money into the market, Sheng said.
As of Dec 31, funds outstanding for foreign exchange stood at 27.07 trillion yuan, an increase of 641.1 billion yuan, compared with a much larger growth of more than 2.7 trillion yuan in 2013.
The significant drop in growth of funds outstanding for foreign exchange has also changed the way that the PBOC used to inject base money into the market by soaking up foreign exchange liquidity, putting huge downward pressure for the growth of money supply. It is one of the main reasons for the slowdown in M2 growth last year, he said.