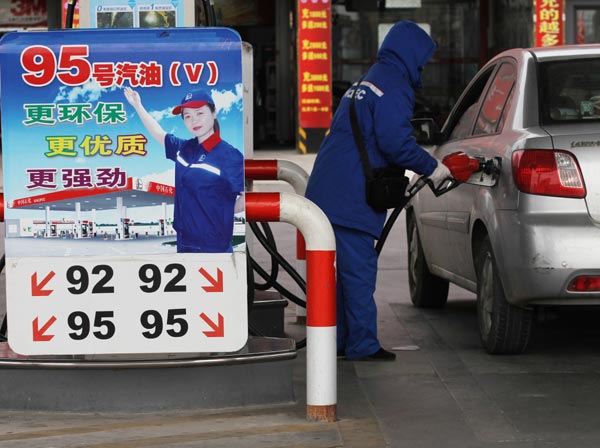 A gas station in Fuyang, Anhui province. As the retail price adjustment frequency increases, profit of oil products trading is flowing to the end of the market like gas filling stations. [Photo/China Daily]
Under pressure from a plunge in world oil prices that began in June, small local refineries that were already grappling with a glutted market have seen their profits almost evaporate, and some may even close, industry sources said.
The price of one international trading benchmark, Brent crude oil, has declined by more than 55 percent in the past seven months to below $50 a barrel.
But Chinese refineries have not seen any benefit from this decline because of weak downstream markets and high inventories that had to be sold at lower prices, said Li Yan, an oil analyst with Shandong Longzhong Information Technology Co.
The consultancy is based in Shandong province, which has the largest number of refineries in the country.
"Affected by the falling oil price, domestic petrochemical companies and traders are also facing reluctant buyers, which caused profit declines for wholesalers and losses by refineries," Li said.
Since China revised its oil pricing mechanism, which is linked to international crude markets with an adjustment window of 10 days, the authorities have announced 12 retail fuel price reductions in a row, most recently last week.
According to the consultancy, the average wholesale price for oil was 8,855 yuan ($1,444) a metric ton in 2014, down 4.5 percent year-on-year, while the average wholesale price for diesel declined by 5.3 percent.
Li said many small refineries will go bankrupt if the crude price falls another $10 a barrel.