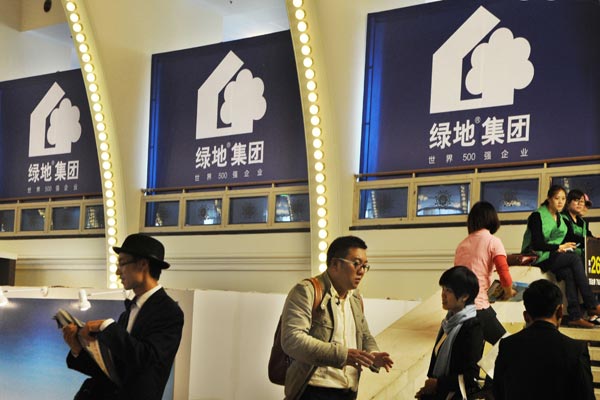 A stand of Greenland Holding Group Co Ltd at a housing expo in Shanghai. Greenland said on Sunday that its sale value in 2014 rose 48 percent to 240.8 billion yuan ($38.7 billion). Provided to China Daily
Greenland Holding overtakes Vanke as top developer in China
Rankings in China's real estate sector had undergone a major change by the end of 2014, with Shanghai-based Greenland Holding Group Co Ltd displacing China Vanke Co Ltd as the largest developer in terms of sales value and volume.
Greenland said on Sunday that its pre-sale value in 2014 rose 48 percent to 240.8 billion yuan ($38.7 billion). The company's pre-sale volume rose 27.4 percent to 21.15 million square meters in the year. Though China Vanke has not yet announced its sales numbers for 2014, private research institutions have estimated the company's pre-sale value at between 212 billion yuan and 218 billion yuan. That means it is almost certain that the Shenzhen-based developer would cede its long-held top slot to Greenland.
Greenland had in 2013 already surpassed China Vanke in terms of the sold floor space, but failed to eclipse the latter in value terms. If private institutions' estimates are accurate, Greenland will certainly end China Vanke's dominant position that could be traced back at least to 2002.
Greenland's ascendance could also be attributed to robust sales in overseas markets and handsome returns from commercial property. Revenue from overseas market surged more than 400 percent to 15.3 billion yuan, the company said.
China Vanke, on the other hand, has been focusing more on the domestic market and residential property sector.
Another recipe for Greenland's success has been its strategy to integrate home sales with urban development. Greenland has fostered good relations with local governments and signed contracts with them to plan and develop new urban areas, which enabled the company to acquire land at low prices.
In 2014, land sales totaled 1.03 billion square meters in the country, a decline of 31 percent year-on-year; and land sales revenue stood at 2.3 trillion yuan, a drop of 28 percent from the 2013 figure, according to China Index Academy, the research branch of SouFun Holdings Ltd.
However, some experts have suggested that Greenland's advantages could very well turn out to be disadvantages in the future. Engaging in urban development means hefty pre-investment, which would be a drag on the company's cash flow before a project becomes really profitable, they said.