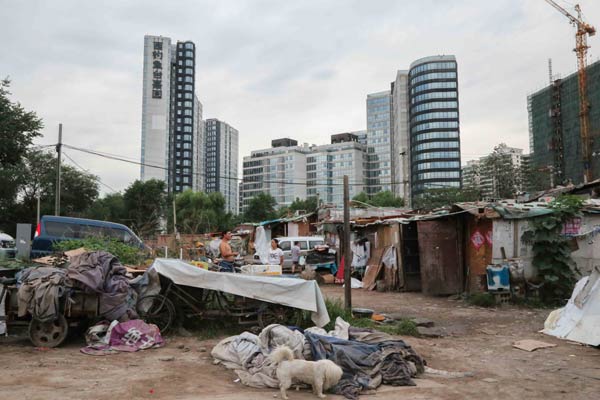 A shantytown area in Beijing. China will expand the use of municipal bonds as part of a broader plan to increase funding for its urbanization program, according to a senior PBOC official. HUA YU/CHINA DAILY
Central bank will support greater use of municipal issues to expand infrastructure
China will expand the use of municipal bonds as part of a broader plan to increase funding for urbanization, an official of the central bank said on Wednesday.
Municipal bonds are widely issued in many countries and the central bank will allow greater use of municipal bonds in China beyond the existing pilot programs, Guo Qingping, a senior official of the People's Bank of China, told a conference.
Economists said the use of municipal bonds could help ease the mismatch between the long payback periods for infrastructure projects and the short-term loans used to finance them.
The PBOC will closely monitor and assess the potential risks associated with financing vehicles through which local government raise funds.
Local governments' debt-servicing ability has been damaged by shrinking revenue from land sales and a declining real estate sector, which has increased concerns over mounting debt risks.
The PBOC and local governments will weed out financially unsustainable LGFVs while giving support to those in sound condition, he said.
Guo spoke at a conference on urbanization efforts through the year 2020, which was attended by senior officials from 15 major ministries.
The urbanization plan for that period was released by the State Council (cabinet) in March.
Officials discussed measures to promote urbanization, such as optimizing city layouts and strengthening environmental protection.
Vice-minister of Finance Liu Kun said at the conference that the ministry has formed a leading team to promote public-private partnerships. A PPP is a long-term, contractual partnership between public and private-sector agencies to provide infrastructure and other services. The ministry has told local governments to initiate PPP demonstration programs.
In the meantime, the ministry will continue to support local governments in issuing bonds, he said.
The ministry will further reform its financial and taxation system to expedite the equalization of basic public health services, said Liu.
Under the plan, China's first such plan on urbanization, 100 million migrant workers and other permanent urban residents should get hukou (household registration) by 2020.
Regular railways and expressways will connect all cities with more than 200,000 residents by 2020, and high-speed rail lines will connect those with more than 500,000 residents.