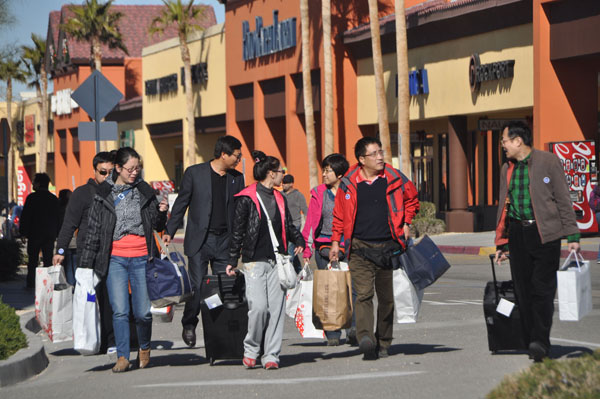 Chinese travelers at a southern California shopping center. Most of the tourists shopping for luxury goods in the US spend an average $2,500 per trip, according to a Los Angelesbased Chinese travel agency. [Photo provided to China Daily]
National Day revelers in China have brought good cheer - and plenty of yuan - to foreign tourist destinations.
Oct 1 was the start of China's National Day holiday, and this year marked the 65th anniversary of the founding of the People's Republic of China. It is called Golden Week because the seven-day national holiday generally sees millions of mainlanders set off on overseas trips that bring huge profits to tourism hot spots.
The United States has traditionally been one of the most popular tourist destinations for Chinese travelers.
Flights between Los Angeles and large Chinese cities were almost fully booked on Monday, even on super jumbo jets, said Lu Weixi, general manager of China Southern Airlines (North Americas).
During the week, the number of Chinese visitors who booked on Usitrip, a travel platform from UnitedStars International Ltd, soared 35 percent over the same period last month, said Andy Zhang, representative of the Los Angeles-based Chinese travel agency.
"We created promotional tour packages to attract Chinese tourists, including local guides and drivers," Zhang told China Daily, adding that Los Angeles and New York remain the most popular US destinations.
"About 60 percent of our Chinese customers chose the Los Angeles tours during the national holiday," said Zhang, who said Southern California's famous theme parks and pleasant weather were probably the main attractions.
Other visitors were attracted by shopping tours in eastern US cities. Chinese travelers shopping for luxury goods in the US spend about $2,500 on average per trip, statistics show, and some spend even more when visiting New York City, said Zhang.
In response to the increase in holiday spending, large retailers in the US have ramped up efforts to attract Chinese customers with special offers and heavy promotions on clothing, shoes and jewelry, Zhang said.
Zhang estimated that traffic to outlet malls increased 50 percent during Golden Week.
For example, the Kiehl's skincare store at the Westfield Valley Fair mall in San Jose, Calif, even hired a Mandarin-speaking sales representative to cater to Chinese patrons. The store also put up a sign that said in Chinese, "Celebrate China's national holiday and get four complimentary luxury samples with a purchase over $75."
The sales representative told China Daily she was asked by her manager to write the sign.
"It attracted lots of Chinese customers to come into the store or take pictures of the sign," she said. "I could tell that many of them were tourists from China."
In 2013, the number of Chinese tourists visiting the US that year totaled 1.9 million, and the number is projected to rise to 2.3 million by the end of 2014, according to Zhang.