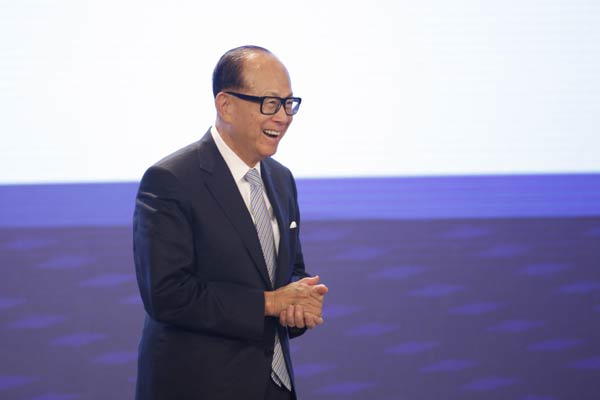 Li Ka-shing's Cheung Kong has about five to six years of reserves and may need to replenish land holdings soon as it speeds up home sales this year. CHINA DAILY
Billionaires including Li Ka-shing and Robert Ng have cut debt at their Hong Kong developers to near-record lows in preparation to buy land as prices fall, a signal the city's real estate gains may be coming to an end.
Cheung Kong Holdings Ltd brought its net debt-to-equity ratio down to 1.3 percent as of June 30, the lowest since at least 1991, while Henderson Land Development Co's is at the lowest since 2007, according to data compiled by Bloomberg. Sino Land Co has HK$29.7 billion ($3.8 billion) available for land acquisitions after boosting its net cash position, according to BNP Paribas SA.
Developers, whose debt levels are now at their lowest in two decades, are on track to sell a record HK$150 billion of new homes this year, reducing inventories and boosting cash reserves to help replenish land holdings after average prices fell 34 percent from last year. Prices may extend declines as Hong Kong's government, which controls supply, releases more sites for sale to ease a housing shortage, according to CLSA Ltd.
"If you feel the market is reaching a peak, it's better to sell down your inventory and pay down your debt so you're fully cashed up going into a decline," said Andrew Lawrence, an analyst at CIMB Group Holdings Bhd in Hong Kong. "You can pick up a cheaper landbank and play the cycle."
Land prices have fallen to an average of HK$3,770 a square foot this year from HK$5,709 a square foot last year as the government increased supply and developers turned cautious, conserving cash, according to Jefferies Group LLC.
The average net debt-to-equity ratio for seven Hong Kong-based developers in the Hang Seng property sub-index was 12.2 percent as of June 30, the lowest in more than two decades, according to data compiled by Bloomberg.
Net debt of Sun Hung Kai Properties Ltd, the city's largest developer by sales, was 12.2 percent of its equity at the end of its fiscal year 2013, the lowest since 2005, the data shows. The developer will bid for all sites released for sale except those it deems too small, Co-chairman Thomas Kwok said last week at the company's annual results briefing.
The developers referred to their earnings reports when asked about their acquisition plans. Sino, controlled by the family of Malaysian billionaire Ng, will "selectively and continuously" replenish its land holdings, while Li's Cheung Kong pursued acquisition opportunities of properties and agricultural property. Henderson said it's continuing to expand its landbank.
"You can't force developers to buy land," Nicole Wong, CLSA's regional property research head, said this week. "You can only entice them to buy land, and that would be through a seemingly profitable land price."
Hong Kong's government is accelerating land sales to boost housing supply by 470,000 units over the next decade. Home prices ballooned after the government stopped regular land auctions in 2004 amid the Asian financial crisis and the SARS epidemic, only resuming them in 2011.
The government is selling four sites this quarter that can accommodate 2,100 units, after it sold six sites with room for 1,500 units in the previous three-month period. Three of the four sites are in the New Territories, the largest of Hong Kong's three regions and the least densely populated.