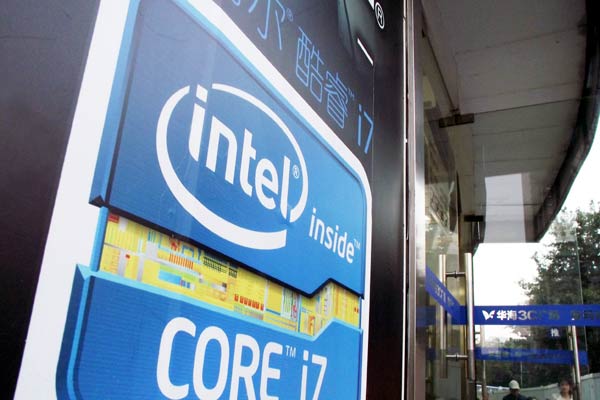 A billboard promotes global chip producer Intel Corp's products in Nanjing, Jiangsu province. Intel is reportedly spending $1.5 billion for a 20 percent stake in Chinese high-tech company Tsinghua Unigroup Ltd, the parent of Unisplendour.CHINA DAILY
US chipmaker said to spend $1.5b for 20% stake in parent of Unisplendour
Share prices of Beijing-based telecom equipment maker Unisplendour Co Ltd soared by the 10-percent daily trade ceiling on Thursday after reports indicated that global chipmaker Intel Corp is spending $1.5 billion for a 20 percent stake in the Chinese company's major shareholder Tsinghua Unigroup Ltd.
Analysts believe the investment will help Intel to get more Chinese smartphone and tablet makers as its biggest rival, Qualcomm Inc, is stuck in an antitrust investigation.
Tsinghua Unigroup, known as Unis, will build mobile chips using Intel's x86 standard, according to Shanghai-based newspaper Oriental Morning Post.
Unisplendour, the subsidiary of Unis traded on the Shenzhen Stock Exchange, rose by the daily limit of 10 percent to 33.61 yuan ($5.47) after trading started in the morning, and remained so throughout the day.
Neither Intel nor Unis confirmed the investment report. But a person familiar with the matter told China Daily the deal will be inked on Friday.
"Everyone knows China is a huge market for mobile chips," said Kitty Fok, managing director of research firm IDC China. "The Internet of Things industry is set to bring a dozen million mobile devices to the market each year although the amount remains small nowadays."
The investment will be a "smart move" for Intel because the US company needs more local partners to enlarge its ecosystem in China, the world's largest maker of smartphones, said Fok.
Unlike its peers, Intel has been relatively slow in its "go mobility" moves. Its x86-based chip was known for high computing power but also had a high energy consumption rate. The company has been trying to lift the power efficiency, a critical requirement for chips used on mobile devices.
Unis is one of the most active local mobile chipmakers in China. The company's mobile chip business was built on acquisitions of smaller Chinese fabless semiconductor makers RDA Microelectronics and Spreadtrum Communications Inc.
However, the potential Intel investment raised concerns for some industry insiders.
Wang Jingwen, a Shanghai-based analyst with industry research company Canalys, said: "It is not clear whether Intel can successfully team up with Unis. The cooperation might have a negative impact on the independent research and development ability of the Chinese enterprises in the chipset industry."
In addition, chipsets of Spreadtrum are based on ARM architecture while Intel uses x86 architecture, said Wang.
"Without further details, it is hard to say how these two vendors can cooperate to launch a chipset."
The Chinese government is investing heavily in home-made IT products.
Unis is a subsidiary of Tsinghua Holdings Co Ltd, a State-owned corporation funded by Tsinghua University. Total assets of Unis hit 40 billion yuan as of last year.