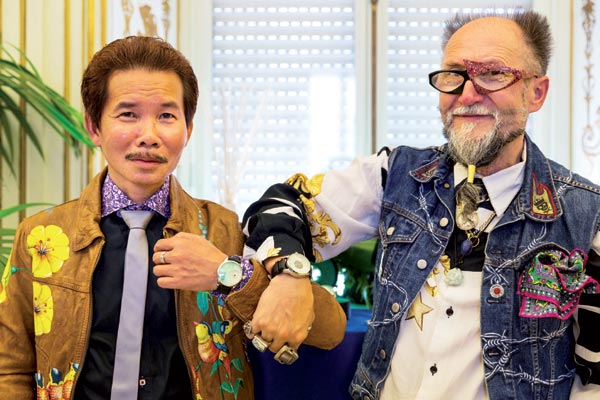 Xu Hongfei and fashion designer Paolo Vermigli show the master sculptor's watches with elements of jade. [Photos/China Daily]
Accessories bear the marks of lover of plump women
Xu Hong Fei's art has the exultant "weight" of plump, vivacious women overflowing with great vitality. This constant in the Chinese sculptor's works is about to be enriched by a line of eye-catching fashion accessories. Xu's luxury line will be launched at the Luisa Via Roma boutique in Florence next month.
His accessory collection was previewed in a show in Milan recently, in a selection of precious objects.
Sitting in a hotel room in Milan, Xu, born in Guangdong province in 1963, talks about how his art has focused on chubby women since the early 1990s.
He comes across as reserved, but there are flashes of humor. At random, he shows me his namesake line of luxury items that are easier to sell because they do not require any particular fit.
So where does his fascination with corpulent women come from?
"The majority of figurative artists depict slim women today and that is too obvious," he says. "I wanted to differ myself significantly from these others. People believe that slimness embodies beauty today. Mine is an alternative idea of beauty."
These days, being fat is generally regarded as undesirable and unfashionable, but it has not always been thus.
"Take the Italian Renaissance," Xu says. "At that time, extremely curvy ladies were considered the height of sexiness."
Indeed, concepts of beauty have changed throughout the ages, and the ideal of feminine beauty during the Italian Renaissance was decidedly more voluptuous than at any other time in history. "Women did not bother themselves with things like a few extra kilos, then," Xu says, and he reckons women are now too obsessed with being slim, "Chinese women included, even though they generally don't tend to put on weight, unlike many American and European women".
Xu says he creates extremely curvy ladies as an expression of sensuality and "the maternal-female principle, the nurturing power of the Earth".
"Those plump tummies, large bottoms, chunky thighs, make you feel the love of a mother; make you feel warm."
Italian Renaissance artists such as Michelangelo and Raffael and the French sculptor August Rodin have greatly inspired him. He has also been influenced by the Tang Dynasty (AD 618-907).
"In the Tang Dynasty, chubby ladies were considered more beautiful," he says.