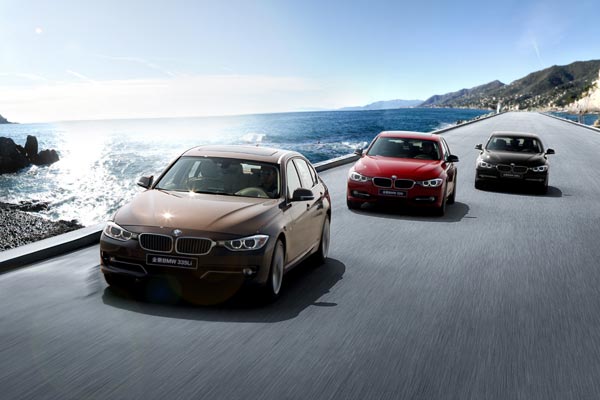 All-new BMW 3 Series. [Photo/China Daily]
German automaker BMW has further enriched its fleet of 3 Series models with the pre-launch of the 316 Li at Chengdu auto show.
The model boasts a 1.6-liter turbocharged engine, an 8-speed automatic transmission and has oil consumption of 6.4 liters per 100 km, according to the automaker.
BMW said the oil meter can be lowered further to 6.2 liters per 100 km when the model is equipped with a 6-speed manual transmission. This makes it one of the most energy-efficient premium models.
The sedan's long wheelbase - 2,920 mm - ensures more legroom for passengers in the backseat.
Although it is an entry-level car, the 316 Li is equipped with BMW's latest technology including the multifunctional steering wheel and heated front seats. It also boasts the automaker's second-generation flat-free tires as well as the iDrive information system.
The latest model brought the number of BMW's 3 Series to 19, far outnumbering other automakers' vehicles in the segment.
More than 14 million 3 Series have been sold worldwide since the first model made its debut in 1975. The company said the sales record made it the most successful premium car.
The 3 Series has won awards around the world including the title of most popular medium-sized car in 2012 from German magazine Auto Zeitung. It also took home the accolade of China's best medium-sized car in a competition organized by Auto Motor Und Sport magazine in 2013.
Statistics showed BMW delivered more than 57,000 3 Series to Chinese customers in the first seven months of this year, a 44.5 percent surge from the same period last year. One reason for its popularity is sportiness, Peter van Binsbergen, senior vice-president of sales and marketing at BMW Brilliance Automotive Ltd, told China Daily.
The car has a 50:50 weight distribution, a winning combination of the Twinpower Turbo engine and 8-speed gearbox, state-of-the-art chassis technology and sporty design, said Binsbergen.