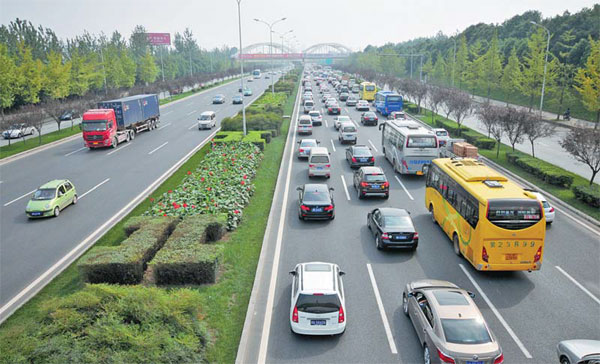 Chengdu's renowned leisurely lifestyle is now going increasingly mobile. [Photo/China Daily]
Capital of Sichuan province is ever more alluring to automakers as 20,000 new cars a month hit the road, Li Fangfang, Qiu Bo and Han Tianyang report.
For 31-year-old IT engineer Liu Yang, the car has become an inseparable part of his leisure time.
Using the popular smartphone app WeChat, every Thursday he and his friends discuss where they go for the upcoming weekend.
A typical Chengdu resident, Liu enjoys an easygoing and leisurely way of life, which is even easier to realize with the big convenience a car brings.
On a recent weekend, he and his friends drove on the highway more than two hours to the neighboring city Zigong just for a special meal - a local cuisine of rabbits.
Like Liu, many Chengdu residents have become accustomed to the mobile life.
The Chengdu municipal traffic management bureau said that by March this year the city had 2.69 million automobiles on the road. In the past five years, more than 20,000 new cars have been registered every month.
It now ranks among the top five Chinese cities in private car ownership. The buying power of local residents is sometimes surprising.
Yu Ting, a white collar worker in a foreign-invested company in Chengdu, and her husband bought two premium cars in a year - a Mercedes-Benz C-Class wagon and a BMW X1.
Before Yu married, she drove a Mini and her husband had a Volkswagen Polo. When they planned to tie the knot and form a family, they thought they should have a bigger car. So they sold both their cars and bought a Mercedes-Benz.
But just a few months later, Yu found that one car was not enough as her husband had to drive her to work every day. So she bought a BMW X1 and used all of the money they saved.
"If I can't buy the best I want, I'd rather not buy," she said.
The car enthusiast even persuaded some of her friends and colleagues to have a "group buy" at a BMW dealership to get a discount for everyone.