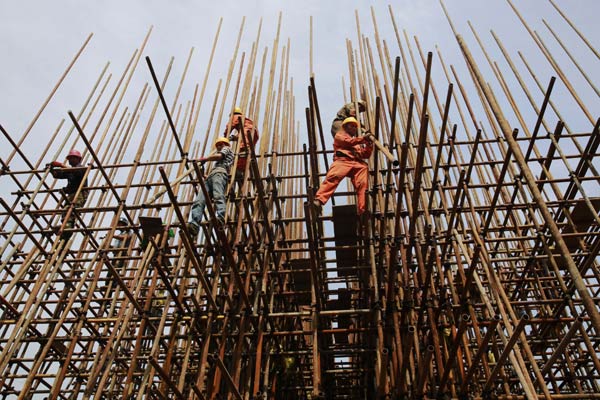 Workers set up scaffolding at a construction site in Jiujiang, Jiangxi province. China should be disciplined about GDP growth as it transforms its pattern of economic growth, experts say. ZHANG HAIYAN/CHINA DAILY
'Nation needs to be disciplined as it transforms' its growth pattern, economist says
China should be disciplined about GDP growth and not overuse available leverage, which can cause distortions, or revert to old growth patterns, especially post-crisis growth patterns, said Michael Spence, professor of economics at the Stern School of Business at New York University and a Nobel laureate in economics.
"If growth dips below 7 percent, the markets will be a little scared, but the reason is either they don't have the information or they don't process it to be able to tell whether it's a transition or a trend.
"A trend means the economy keeps going down. A transition means it's a low, and growth will return with a more sustainable pattern," Spence said during an interview on the sidelines of the Jinjialing Fortune Forum 2014 held in
Qingdao
,
Shandong
province, on June 21.
He said China's leaders anticipated an economic slowdown to 7 to 7.5 percent, and they are still on target.
"If you look at middle-income countries that slow down, it's almost always because they try to keep the old growth model. It will not work anymore," he said.
The old growth model was high investment, he said, and the demand in China that will enable growth has to shift in a much more targeted way to the domestic side.
The tradable sector of the Chinese economy is not much of a growth engine now, because the rest of the global economy - especially the big importers - is growing slowly.
The government can crank up investment anytime it wants and boost domestic demand. The problem is if the returns on that investment are low, it will not generate growth, just demand, he noted.
"China is at the point where financial sector reform and other things are going to increase discipline on the investment side," Spence said.
He pointed out that it is perfectly legitimate to have more than what the People's Bank of China calls a "mini-stimulus" program if there is a serious economic downturn, but there are better and worse ways to do it.