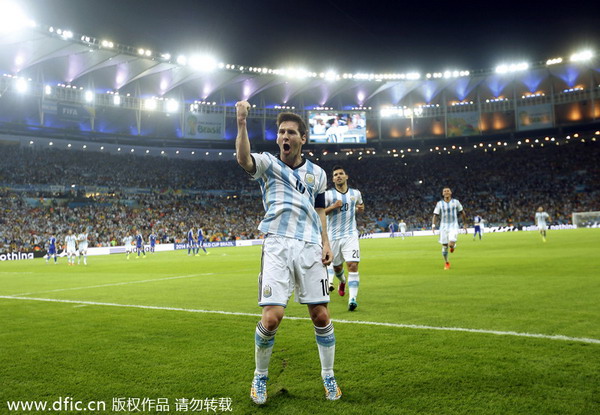 Solar panels from Chinese Yingli Green Energy Holding Co are seen lighting up the Maracana Stadium in Rio de Janeiro, Brazil, June 15, 2014. [Photo / IC] 
SHIJIAZHUANG - China may not have qualified for this summer's World Cup in Brazil, but Yingli Green Energy Holding Co is flying the flag with advertising logos at all 12 stadiums.
Miao Liansheng, chairman and CEO of the New York Exchange-listed solar panel company, said the much-needed exposure will be a huge driver for business growth.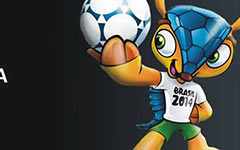 Top 10 Chinese products scoring World Cup goal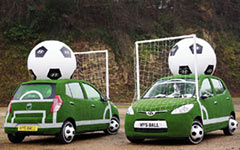 7 amazing ways to mark World Cup 
China's photovoltaic (PV) industry is struggling because of excess capacity and high duties levied by the United States and EU.
As well as advertising, Yingli solar panels are powering all stadium lighting masts. Its panels are also powering the media centers at the month-long tournament.
The Maracana stadium, where the World Cup final will be played in July, is one of football's most iconic venues and now will be famous for its sustainability initiatives, according to Yingli.
Yingli is the only Chinese sponsor of the event. It was also a sponsor at the World Cup in South Africa four years ago.
In 2010, Yingli paid 500 million yuan ($80 million) to gain exposure at the event, the company said.
Its Yingli Solar logo, in Chinese and English, appeared on electronic advertising hoardings at all 64 games. The Yingli slogan appeared for 30 seconds at a time, totaling eight minutes during each game. It is the same for this year's tournament.
Despite the hefty sum, Miao said the cost was justified. "The South Africa World Cup was a great platform for brand communication and market expansion."
The bold move for the solar panel maker, which is based in the city of Baoding in north China's Hebei Province, earned the company more than 50 million dollars. It lost money.
But the global brand awareness has proved promising. The company's production capacity topped 3,200 megawatts in 2013. It increased its global market share to 10 percent from 3 percent after the South African World Cup.
Industry reshuffle
The tepid performance of the PV industry and duties levied by its two main overseas markets have combined to cloud the company.
"The punitive duties from the United States and EU have impacted the company. The increased prices have hampered our exports in the two regions which used to see stable sales volume," said Liang Tian, chief publicity officer.
Liang said barriers posed by high tax from the US and EU have caused a reshuffle among industry players, with companies merging or closing.
Firms that survive the reshuffle will be those with strong market demand, brand and technologies, while small, inefficient players will be weeded out, Liang said. "The global PV market keeps expanding and people are demanding green energy. This offers chances."