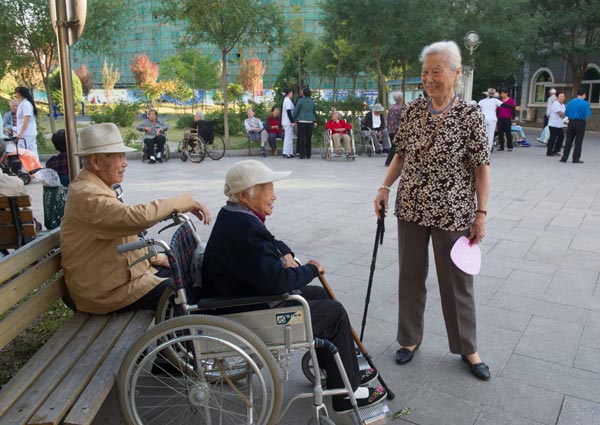 Senior citizens chat at a retirement home in Beijing. The insurance regulator has chosen Beijing, Shanghai, Guangzhou and Wuhan to carry out a pilot housing-for-pension program for eligible senior citizens. The two-year program will start from July 1. [Photo/Xinhua]
The China Insurance Regulatory Commission said on Monday that it approved a two-year pilot program involving reverse mortgages, part of the government's drive to improve the situation of the country's rising number of retirees.
Reverse mortgages, also known as home equity conversion mortgages, are common in developed countries but new in China. They are extended to older citizens who use their homes as collateral in return for regular payments from insurers.
According to the CIRC, this type of insurance will help broaden financial resources for the elderly and expand the retirement services offered by insurance companies.
Apartment owners aged above 60 are eligible, the commission said in an online statement. At present, China has more than 200 million people over the age of 60, industry statistics showed.
The pilot program starts on July 1 in Beijing, Shanghai, Guangzhou and Wuhan, the capital of Hubei province.
The commission said the program "will offer senior citizens more choices for their retirement" and expand investment channels for insurers.
Under the program, the apartment of a policyholder will be disposed of by the insurer after the policyholder dies.
According to Guan Jiaoyang, general manager of Wuhan-based Union Life Insurance Co Ltd, there are two major types of clients for reverse mortgages—those with significant assets and those who have no immediate relatives.
As a new product, the major challenges include the valuation of properties, the levy of property tax and traditional ideas, said Guan. Many Chinese will find it hard to accept the idea of parents leaving a property to an insurer rather than their children.
The pilot program, according to a marketing director of real estate brokerage firm Century 21, a franchise of IFM Investments Ltd, will help stimulate the pre-owned home market.
These properties will be important mortgage assets for insurance companies and can later be used in asset securitization, the marketing director said.