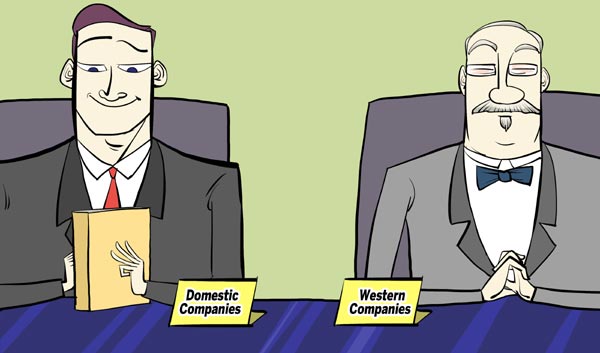 Zhang Chengliang / China Daily
Management consulting is not exactly something new in Chinese business. But with the high fees such consulting services command, how do Chinese businesses justify their value?
There can surely be no point simply in selling the firms' standard consultancy models and products developed in the United States, Europe or elsewhere. The value of consulting advice is, after all, the way management theory and models can be applied practically in a particular business in order to help it perform and compete better.
You can find most management consultancy models and products on the Internet and you will not have to pay a cent.
Indeed, an increasing number of young Chinese business leaders are fully aware of these management theories and models. The market for selling standard Western management consultancy models and products is already shrinking, and that means management consultancies need to rethink where their value lies.
What the management consultancy companies need to do is apply Western theories and models to Chinese situations rather than selling standard models and products that simply leave clients in the dark as they are forced to apply and use those tools as best they can.
The question then arises of who is better at doing this work, Western management consultancies or domestic ones.
Western management consulting has a long history. McKinsey, for example, was established nearly 80 years ago. They helped develop models and products with management theories that, properly applied, are still valid today.
In China, domestic management consultancy companies go back 20 years. In their early years they were preoccupied with catching up with foreign rivals' products. But today, their knowledge is as good as that of their foreign competitors, for which they charge a third or even less of the fees of foreign companies.
An example is Allpku, the largest domestic management consultancy in China. Its recruits have to be MBA graduates from one of the top Chinese business schools, such as those at Tsinghua University, Peking University, Shanghai Jiaotong University, and Fudan University.
These schools have full-time management courses, mainly teaching advanced Western management theories and models. So the methodology that domestic management consultancies use is as polished as that of their foreign rivals.
More importantly, domestic consultancies better understand Chinese culture.