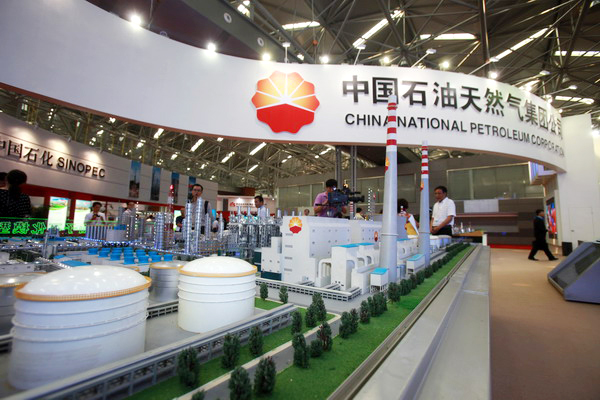 China National Petroleum Corp's booth at a trade show in Tianjin in September, 2013. The company announced Thursday that its oil and gas output both home and abroad rose 10.2 percent year on year to 306.65 million tons of oil equivalent in 2013. [Photo / China Daily]
Company units erred in natural gas sales income calculation, audit finds
Oil and gas producer China National Petroleum Corp understated its profit for 2012 after 10 company units miscalculated natural gas sales income, the National Audit Office said on Friday.
After a thorough review of the company's 2012 financial results, the auditors said accounting errors were discovered in contracts with a total value of 26 billion yuan ($4.2 billion). The revenue miscalculation led to the group under-reporting some 603 million yuan in profit, the State auditor said on its website.
BDO China Shu Lun Pan Certified Public Accountants LLP reviewed CNPC's financial results and pointed out the problems to the NAO.
"CNPC has problems in production, operation and internal management. Some staff at the management level allegedly are in serious violation of laws and regulations," said the office in the statement.
To address the problems, the authorities have asked the company to inform the public about the correction and improvement in its auditing. Violations of law and regulations will be notified to the relevant departments for further investigation, it said.
In a statement on its website on Friday, the CNPC said it has corrected the accounting errors, including those that still need to be approved by the relevant authorities.
"The auditing report will not affect the company's overall performance and financial reports in general," it said. "The company will hold those who are involved as responsible."
According to the NAO report, CNPC also violated the country's regulations by providing large-scale natural gas supplies to a liquefied natural gas producer. About 55 gas stations in a sales branch of CNPC in Sichuan failed to complete the due certification process required for operations, it said.