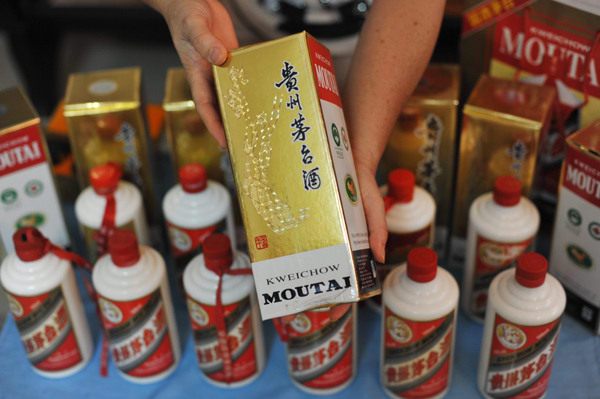 A seller displays bottles of Moutai at a shop in Qionghai, Hainan province, August 31, 2013. [Meng Zhongde/For China Daily]
Kweichou Moutai, the maker of of high-end liquor that is a staple of elegant Chinese banquets, will lower the threshold for franchisors in unexploited areas to further extend its dealership network.
Experts see the campaign as aiming to engage in the mass market and burn off current inventories. Enterprises and individuals can apply for dealerships at county-level, provincial capital-level or economic development zones where the brand does not have a presence yet, Kweichou Moutai said in an online statement.
An insider, who asked not to be named, said an earlier note from the company had forecast the possible launch of 100 to 200 new dealerships this year.
Meanwhile, the baijiu giant also laid out extremely strict ground rules for applicants, such as more than two years' liquor-trade experience, top-three sales performance in local areas and strong social relationships with mature sales teams.
Applicants are also required to accept annual sales targets of over 4.5 tons that can cost as much as eight million yuan ($1.28 million).
But the terms have been significantly loosened from the entry barrier of 30 tons that cost more than 60 million yuan a year as of last July.
Moutai is obviously seeking to embrace a mass market, which is good news for general consumers, said Long Hewen, a baijiu expert working for the research policy center of the Provincial Party Committee of Guizhou, where Moutai comes from.
"Though Moutai's market campaign looks aggressive, it suggests that the brand is giving up the luxury tag and seeking a more rational market approach," he said.