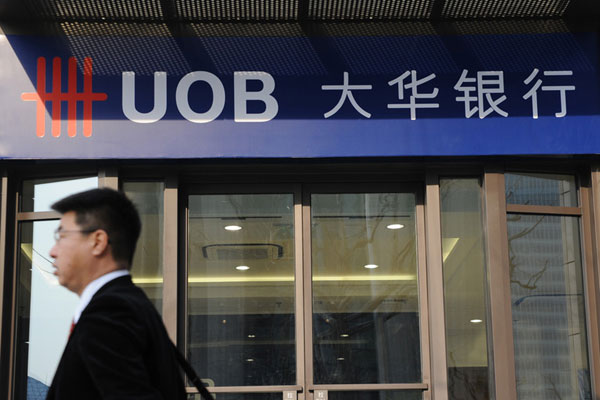 A pedestrian walks past a branch of United Overseas Bank (UOB) in Shanghai, China, March 10,  2011. [Photo/IC]
Singaporean lender United Overseas Bank (UOB) launched a sub-branch in the China (Shanghai) Piloted Free Trade Zone (FTZ) on Saturday in a bid to boost its business amid the country's expanding import and export trade.
The FTZ sub-branch will focus on providing cross-border renminbi financing solutions for its clients conducting business between China and throughout Asia, said Eric Lian, President and Chief Executive Officer of UOB.
Lian said yuan internationalization and China's expanding imports and exports have brought opportunities to lenders and businesses alike.
UOB and other foreign-capital lenders have set up branches in the FTZ to enable their clients to operate and receive financing with the help of the lender's global networks.
According to a recent UOB survey that polled 1,024 executives to find Asian business sentiments on expansion, it was discovered that about 61 percent of Chinese companies are planning to expand their business into the region over the next 12 months, identifying Southeast Asia, South Korea and Japan as their priorities. Asian companies, especially those from Malaysia, Singapore and Thailand, view China as their top expansion destination in 2014.
UOB (China)'s FTZ sub-branch signed an offshore loan agreement totaling 1.5 billion yuan with the Shanghai Guandong International Container Terminal Co (Shanghai Guandong) and a Memorandum of Understanding with YCH Free Port (Shanghai) Co Ltd (YCH) to provide cash pooling services and to support their business development needs.
The lender will focus on finance assistance in areas such as shipping, logistic, food, and other sectors that may meet expanding domestic demands in China, said Lian.