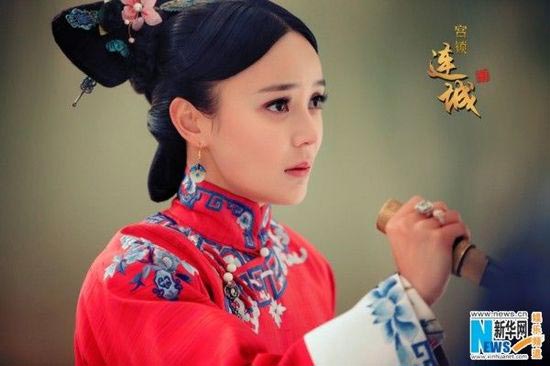 Still photos of costume drama "The Palace: The Lost Daughter" were released. Cast members include Chinese actor Lu Yi and actress Yuan Shanshan. The drama began airing on Hunan Television on April 8. [Photo/Xinhua]
SHANGHAI - China's television producers are eyeing a broader global audience in face of a tough policy change.
The industry is expected to face heavy financial pressure because, from 2015, producers may only broadcast a TV series on two domestic satellite channels, compared with the current four.
Against that background, how to make Chinese TV more acceptable to the overseas market was a hot topic at the 20th Shanghai TV Festival that ended on Friday.
"We hadn't realized that West Asia is a huge untapped market for us until we attend a TV festival in Turkey in March," said He Xiaolan, president of WingsMedia.
During their trip, the producers sold programs for 6 million yuan ($960,000) to buyers from West Asian countries.
The Chinese food documentary series "A Bite of China" and dating programs, including one called "Pick One from a Hundred", enjoyed unexpected popularity. Foreign buyers are traditionally interested in costume dramas and kung fu, said Li Lei, in charge of overseas markets at WingsMedia.
"It shows that documentaries depicting modern life in China and other original programs have the potential to go global," Li said.
In recent years, Chinese light comedies about family life have achieved great successes in Africa. For example, the 36-episode "A Beautiful Daughter-in-law Era", dubbed in Swahili and aired in 2011, struck a chord with women there who, like their Asian counterparts, have problems with their mother-in-law or daughter-in-law.
Despite the breakthroughs in West Asia and Africa, Southeast Asian countries, more culturally connected with China, remain major importers of Chinese TV programs.
China is the world's most prolific producer of TV series, with 15,000 episodes made in 2013, but the domestic market is nearly saturated. The policy change may stimulate Chinese producers to seek more overseas opportunities.
Considering their American counterparts' success in the European market for decades, Chinese producers should be "fully confident", said Kristian Kender, an executive with CMM, a US media consultancy.
The task requires both ambition and patience, he said, adding that Chinese producers should make their stories easier to understand by foreign audiences.