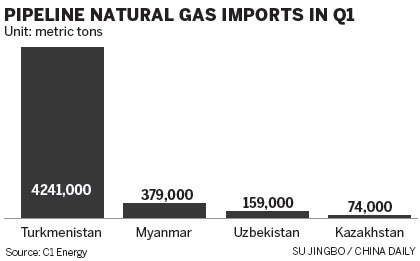 Negotiations expected to be finalized during Putin's upcoming visit to Beijing
China National Petroleum Corp, the country's energy giant, said on Wednesday its long-term natural gas supply talks with Russia may come to a close and a contract signed soon, industry leaders and experts said. A deal has been backed by both countries' governments.
Russian President Vladimir Putin visits Beijing on May 20.
A company source told China Daily the two parties reached a
gree
ment on technical and commercial issues during an April visit to Russia by CNPC chairman Zhou Jiping. Differences remain over price, the source said.
China doesn't now import Russian gas through pipelines. Under a previous agreement Russia's top natural gas producer, Gazprom OAO, will supply China with 38 billion cubic meters of gas annually from 2018.
That's slated to rise at an unspecified time to 68 billion cubic meters, using both western and eastern pipelines. It will ease China's appetite for clean energy.
Shanghai-based energy consultancy ICIS-C1 Energy estimates China's natural gas consumption will reach 346 billion cu m in 2018, and the country will be dependent on foreign supplies to meet more than half of that. Russia can potentially vault Turkmenistan as China's biggest pipeline provider.
The gas price to be struck in the China-Russia deal may not be as low as previously expected, Wang Ruiqi, senior analyst with C1 Energy, said. That's even as Russia seeks out gas buyers, he said.
Gazprom may have extra gas to sell if it carries through threats made on Monday to cut supplies to Ukraine as early as June 3 if the Kiev government doesn't start paying for the gas in advance.
Relations between the countries have chilled this year after Ukrainian president Viktor Yanukovich was ousted and the Crimea region was incorporated into the Russian Federation.