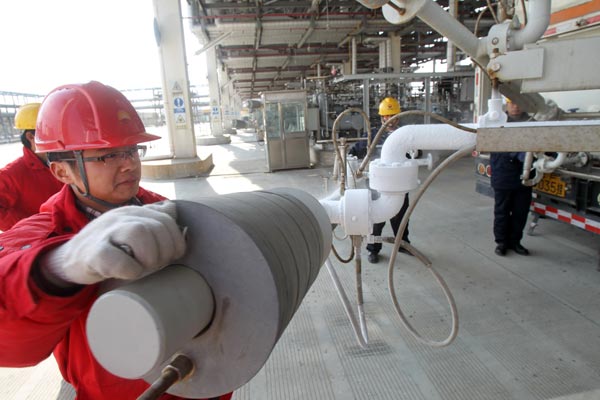 China National Petroleum Corp workers at a natural gas terminal in Nantong, Jiangsu province. Provided to China Daily
Sichuan project expected to help secure nation's energy supply, meet demand
China National Petroleum Corp started drilling its most recent natural gas discovery in Sichuan province on Friday, a project that will help ensure the country's energy supply.
The reservoir is located in the Longwangmiao formation of the Cambrian system in the Moxi block of the Anyue gas field. It represents a major breakthrough by the company, the nation's largest oil and natural gas producer, in natural gas exploration.
Yang Yu, a geologist who works for a CNPC subsidiary, said the discovery of the Longwangmiao reservoir proved that China still has huge potential in conventional natural gas exploration.
"Our proprietary technology helped the company make a breakthrough", said Yang.
The subsidiary, PetroChina Southwest Oil and Gasfield Co, has already developed a project in the block with an annual output of 1 billion cubic meters.
Li Luguang, general manager of the subsidiary, said the company expects to produce 11 bcm of gas annually by end-2015.
That's equivalent to the annual volume of gas imports from Myanmar, and it's also enough to supply Beijing for a year, according to Wang Xiaokun, an energy analyst at consultancy Sublime China Information.
As China strives to cut carbon emissions and raise the proportion of clean fuel in its primary energy mix, natural gas consumption has continued to rise - along with dependency on imports.
Natural gas imports rose 25 percent in 2013 to 53 bcm, and they're expected to expand another 18.9 percent this year to 63 bcm, according to the CNPC Economics and Technology Research Institute.
China used 169 bcm of natural gas in 2013, according to the National Development and Reform Commission.