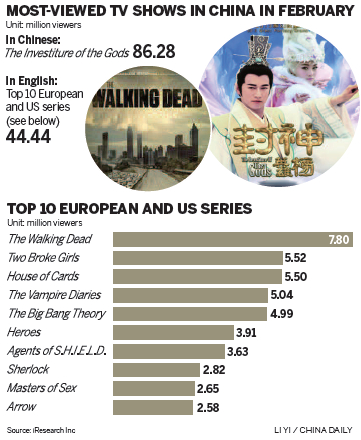 BEIJING - Li Yipo was upset and confused when he found his favorite TV show, "The Big Bang Theory," had "disappeared" suddenly from the Chinese Internet.
"Sorry, the video is currently unavailable due to policy reasons," said the message that greeted Li and many other "Big Bang" fans when they logged on to major Chinese video websites such as tv.sohu.com to watch the comedy.
Another three American TV programs -- "The Good Wife," "The Practice," and "NCIS" -- have also been pulled from China's mainstream online video services since Saturday.
"We received a circular from relevant organs, which asked all websites to stop playing the four TV series without giving any reasons," said Chen Danqing, deputy head of China's leading video sharing platform Youku Tudou Inc.
Chen said that his website has suffered a loss of users, but the extent of losses has been limited.
China's TV watchdog, the State Administration of Press, Publication, Radio, Film and Television (SAPPRFT), refused to comment. It reiterated last month an existing rule stipulating that online programs be censored before being made available for viewing.
"We don't know when the ban on the four shows will be lifted. It just told us to wait for further notice," a Youku Tudou insider said.
Chen and the insider said that there are no copyright disputes concerning their websites' streaming of the shows.
The move came following an online pornography crackdown launched by the National Office Against Pornographic and Illegal Publications.
"But 'The Big Bang Theory' is a sitcom suitable for viewers of all ages, and I don't think it has contained any porn content, so why?" said Li.
Xinhua contacted the office and was told that it has no involvement with the withdrawal of the four TV programs.
More foreign shows may be taken off video sites