Customs officers seize 7,200 illegally made sandal soles with Brazil World Cup logos on Thursday in Xiamen, Fujian province. China's immature patent services face challenges in the push for intellectual property protection. Lei Guohua / for China Daily
Spiking demand for intellectual property services shows large room for growth
China's patent mechanisms need to be upgraded with foreign expertise, amid a growing demand for international intellectual property services from domestic enterprises, experts said.
The number of patent applications, the demand for legal support, and intellectual property consultation in various sectors have soared in recent years, inspired by the central government's call to develop intellectual property strategies.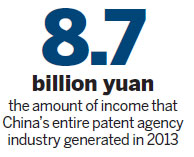 But the development also poses challenges to the country's immature patent services, they said.
The State Intellectual Property Office said China has 1,001 patent agencies and 8,861 professional practicing agents registered under the office. The entire patent agency industry generated income of more than 8.7 billion yuan ($1.4 billion), including application and managing fees, last year.
There is still room for the industry to thrive as lots of IP-related services have not yet been fully developed in China, said He Hua, the office's deputy director.
"The skyrocketing demand in the patent application processing each year shows how big the industry is going to be, and the industry is far from realizing its potential," He said at an IP symposium held by the All-China Patent Attorneys Association on Saturday.
China received 825,000 invention patent applications last year, a 26.3 percent increase year-on-year. The 2.38 million patent applications filed was the highest in the world for the third consecutive year, the office said earlier this month.
Chinese companies are paying more attention to international patents, with a rising awareness of their IP edge in the global market. The country received 22,924 international patent applications according to the Patent Cooperation Treaty in 2013, a 15 percent increase from 2012.
But of all the domestic and foreign patent applications filed last year, only 60 percent were processed through patent agencies, a 15 percent drop from 10 years ago.