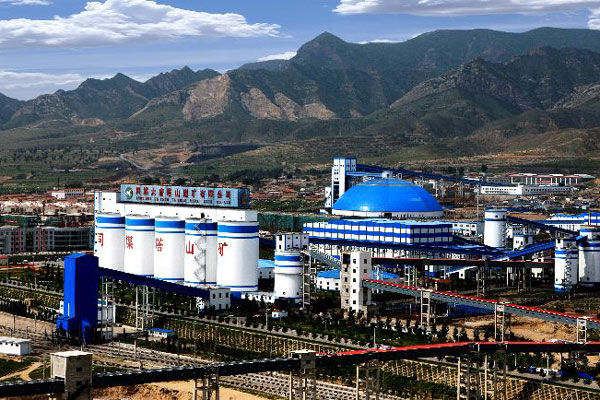 The Datong Coal Mine Group Co Ltd is one of the four largest coal mining companies in China and produces 10 percent of the nation's coal. Xinhua
Datong Coal Mine Group's power model may become China's norm
Datong Coal Mine Group Co Ltd (Tongmei) generates power from the fuel it produces close to the pit it came from. The trial at Tashan industrial park by China's largest coal miner may become a model for the country's changing industry.
Visitors get just a hint that they are near one of the world's largest coal mines. The Tashan park is about 30 kilometers to the south of Datong city in northern Shanxi province. There are broad and clean roads, neatly cut plants lining streets, fresh air and a sparsely populated modern residential area.
There are also large patches of depressed areas, the by product of mining.
The large thermal power plant and the Tashan coal mine are at the park's core.
The mine began production in 2006. It has an exploitable reserve of more than 3 billion tons and yielded 20 million tons last year, 1 percent of China's total.
There are about 30 workers operating the power generator, and 800 miners. Mining here appears to not be the traditionally known dangerous, polluting and labor-intensive work.
"All coal excavators and cutters are equipped with baseboard and protection beams. The dynamic compression effectively reduces the coal dust in the air." Shi Li, a veteran miner in his 40s, said.
All the coal is delivered on a 1.5-km long, 2-meter-wide conveyor belt from the pit to the washery factory and power plant. The belt can deliver 6,000 tons of coal an hour from the washery to two 60-megawatt power generation boilers. It is the largest power plant in China that is situated near a pit.
It takes 329 grams of coal here to generate 1 kilowatt of electricity, while the national average is from 400 to 600 grams depending on the size of thermal generators. The Tashan plant's sulfur removal efficiency rate is 95.1 percent, five percentage points higher than the national required level.
Power plants near the mine have their advantages.