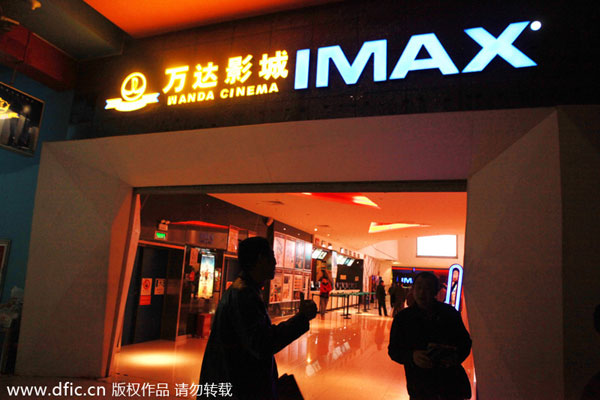 Moviegoers are seen at a branch of Wanda cinema IMAX in Nanchang city, East China's Jiangxi province, Nov 29, 2012. [Photo/dfic.cn]
Imax Corp, the world's leading giant-screen theater operator, plans to sell a 20 percent stake in its Chinese business to two China-focused investment companies in an $80 million deal to pave the way for expansion and an anticipated initial public offering in the China market, according to a report in The Wall Street Journal on Tuesday.
Richard Gelfond, chief executive officer of Imax Corp, said in an interview that China Media Capital, an investment fund launched in 2009, and private-equity firm FountainVest Partners would pay $40 million each to purchase 10 percent of the stake by early 2015, said the report.
The investors will help to pave the way for a public offering of shares of the China operation - Imax China Holding Inc - in the next five years, said Gelfond.
As a wholly owned subsidiary of the Canada-based giant movie screen manufacturer Imax Corp, Imax China was established in September 2011 to better capitalize on the opportunities in the world's second-largest movie market.
Imax China is planning to go public in Hong Kong, but will also consider the possibility of listing on other Chinese exchanges, such as in Shanghai, in case that doesn't work out or a better opportunity arises on the Chinese mainland, according to a spokeswoman for the company.
An IPO will facilitate an increase in the number of screens Imax Corp runs across China beyond the current 150, said Gelfond. Imax Corp plans to open more than 200 screens in the next five years in China, which has already become its critical growth market and is set to become its largest market.
In North America, it currently operates 340 screens.
"To a certain extent, the partnership with the two China-focused investment groups will help to boost Imax Corp's expansion in the China market, which is experiencing fierce competition in the giant movie screen market," said Chen Shaofeng, deputy director of the Institute for Cultural Industries at Peking University.