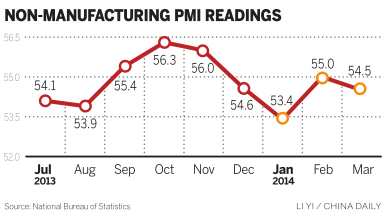 "However, combined with the weaker manufacturing PMI reading, the underlying momentum of the economy is softening, which should ultimately weigh on the labor market. The government should focus on leading indicators to launch fine-tuning measures that support growth," said Qu.
On Tuesday, HSBC released its March manufacturing PMI of 48, down from 48.5 in February, a deterioration for the third consecutive month.
Meanwhile, the official manufacturing PMI edged up in March to 50.3 from the February reading of 50.2, but still lower than the average of 51.3 in the fourth quarter of 2013.
Louis Kuijs, chief economist in China at Royal Bank of Scotland Plc, said: "Swings in manufacturing growth tend to be more pronounced than those in the services sector. In China, the role of the services sector is increasing trend-wise because of a changing growth pattern."
According to National Bureau of Statistics data, the service sector grew faster than industry last year. "The non-manufacturing PMI has held up better in recent months, and this has helped to keep the labor market healthy," Kuijs said.
Premier Li Keqiang on Wednesday chaired a State Council executive meeting at which he announced the modest economic support measures. The meeting also clarified financing sources for the planned investment projects.
It suggests that credit supply may rebound in the second quarter, said economists from Nomura Securities Co Ltd in a research report. "These measures clearly show that the pace of policy easing is picking up," they said.