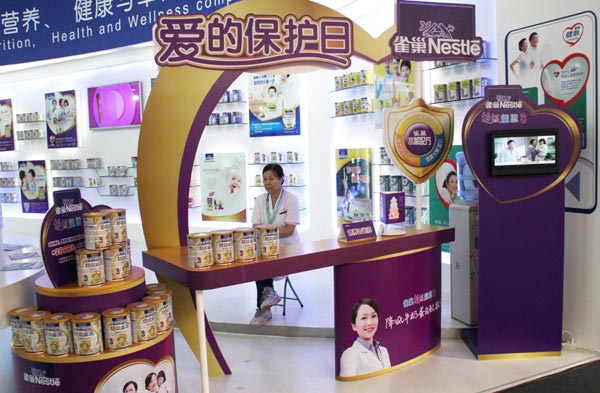 Nestle SA's booth at an internatoinal dairy products and imported food exhibition in Beijing. The company's sales growth in China slowed to 27.6 percent, much lower than the 91.4 percent in 2012. Wu Changqing / for China Daily
Localization also core element of Nestle's China strategy, says CEO
Paul Bulcke, chief executive officer of Nestle SA, seems enthusiastic after a two-day meeting at China Development Forum, a top annual economic gathering in Beijing that finished on Monday.
The Belgian was keen to hear the opinions and ideas shared about the economic outlook of China, one of the most crucial markets for the Swiss food and beverage maker.
What he considers to be most motivating is the will of the government and its capacity to execute that will. "What you said is what is done," said the CEO, who joined Nestle in 1979 and has been head of many key markets including Germany, Portugal and Peru.
The quick-talking, garrulous Bulcke, who is fluent in six languages, began his career in 1977 as a financial analyst for Scott Graphics International in Belgium.
He lists motorcycling and sailing among his hobbies, which may help him deal with the ups and downs of the market and the obligatory ducking and weaving. After taking up his position in early 2008, during the global financial crisis, he has had to contend with plenty of that, including higher costs for raw materials and falling demand from shoppers. To cope, he sold off companies within the fold that were not central to the core business and began a consolidation process for Nestle focusing on nutrition and health foods. It was indicative, said a colleague, of the fact he was not just a marketer but also a talented manager.