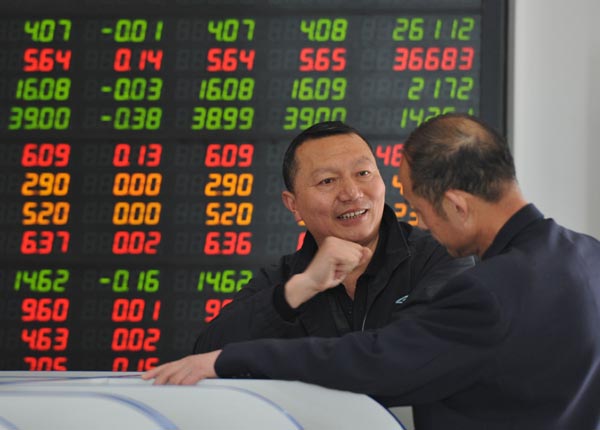 Investors discuss market trends at a securities house in Fuyang, Anhui province. So far this year,48 Chinese companies have listed on the A-share market, raising 22.4 billion yuan. Lu Qijian / for China Daily
Steps taken by the China Securities Regulatory Commission to improve the initial public offering system are expected to protect the interests of small and medium-sized investors, but the IPO pricing system should be more market-oriented, experts said.
The number of shares sold by existing shareholders should be less than the number offered to investors who will hold them for at least 12 months, the CSRC said on Friday.
"The system of share transfers from existing shareholders has some deficiencies. The measures will protect the interests of new shareholders," said Hong Hao, managing director and chief strategist at BOCOM International Holdings Co Ltd.
"The commission took these steps to optimize the transfer system, which can combine the 'invisible hand' of the market with the 'visible' hand of the regulator," said Liu Jipeng, a professor at the China University of Political Science and Law.
The CSRC released a reform plan covering IPOs at the end of November that allows some shares from existing shareholders to be transferred, raising the proportion of tradable shares in a company.