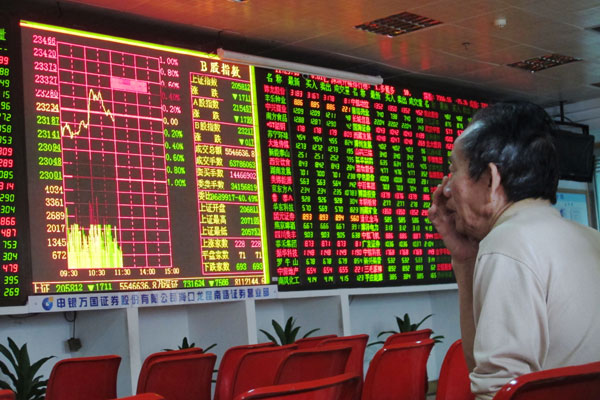 An investor follows the stock index at a brokerage in Haikou, Hainan province, March 4, 2014. SHI YAN/CHINA DAILY
Following a spate of criticism, the securities regulator vows to push forward with registration-based public offerings, reports Xie Yu from Shanghai
The China Securities Regulatory Commission should review its flawed IPO reforms and take corrective action before the next listing wave crushes an already shaky equity market, investors and analysts agree.
"It is clear that the IPO reform of the CSRC has met setbacks. And the
stock market
will plunge further if the problems are not addressed," said Oliver Meng Rui, a professor of finance and accounting at the China
Europe
International Business School.
"In my opinion, the CSRC should let it go, rather than taking stopgap measures. The children won't grow up without pain, " he added.
A total of 48 companies had gone public in the Shanghai and Shenzhen bourses by mid-February following the CSRC's December announcement that it was resuming IPO approvals after a 13-month hiatus.
The companies raised 33.5 billion yuan ($5.45 billion) through issuing 2.4 billion shares. By late February, 694 companies were lining up for IPO approvals, the CSRC said in a news release on Friday.
But despite the surging prices of new shares, by the end of January, the benchmark Shanghai Composite Index had fallen 10 percent from the previous month amid rumors of insider trading during the IPO process.
While market observers said there would not be more new IPOs in the short term as current candidates prepare their annual reports for examination by the CSRC, other observers and investors voiced pessimism about the market's outlook.
Xin Yu, president of Guangzhou-based Zequan Investment Co Ltd, noted: "The CSRC said to give investors, not government officials, the primary role in deciding who gets to list and at what price through this reform, but the fact is they keep intervening, and the reform is going nowhere."
According to the latest CSRC guidelines, controlling shareholders are allowed to sell their pre-listing shares during IPOs. But in early January, Jiangsu Aosaikang Pharmaceutical Co Ltd had to postpone its IPO because of pressure from the CSRC.