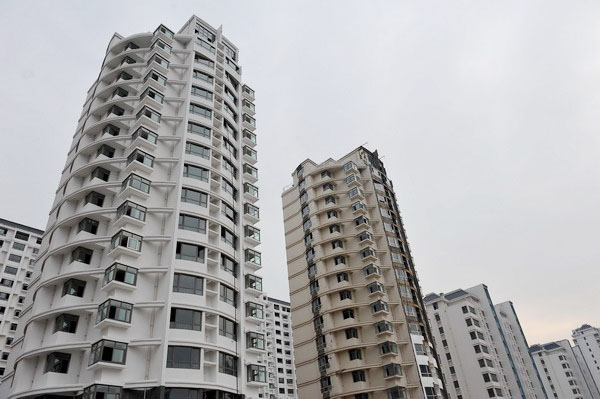 Buildings are seen under construction in Qingzhou, Shandong province, March 19, 2014. Chinese investors see real estate, stocks and precious metals as the riskiest assets this year and over the next 10 years. [Photo by Wang Jilin / Asianewsphoto]
Poll shows concern that asset bubble will burst
Chinese investors see real estate, stocks and precious metals as the riskiest assets this year and over the next 10 years, according to a survey released on Thursday by Franklin Templeton Investments, a unit of United States-based Franklin Resources Inc.
The survey was based on 517 Chinese investors aged 25 to 65, with average assets available for investment of 1.1 million yuan ($176,600).
Among the respondents, 48 percent said real estate will be one of the three riskiest investments in 2014.
That figure rises to 55 percent over the next 10 years. Stocks and precious metals ranked second and third.
About 37 percent of Chinese investors think the potential of an asset bubble bursting is the major threat to the market in 2014. Another 24 percent said the same of China's economic slowdown.
"Property oversupply, shadow banking and funds being withdrawn from emerging markets may be risks in the Chinese real estate market," said Amy Wang, chief representative of Franklin Templeton Investments' Beijing office.
Real estate is also expected to be the most profitable: 24 percent said it can be the best performer of 2014. Stocks and commodities (excluding metal) followed with 15 percent each.
"Urbanization can be a driving force for the Chinese real estate market, which brings big investment opportunities," said Wang.
Although the A-share market's performance in 2013 fell short of expectations, Chinese investors are still optimistic about it this year: 51 percent believe the stock market will rise in 2014, in contrast with 19 percent who expect a slide.
Chinese investors expect the average rate of return for their entire portfolios this year to be 12 percent, lower than the 13.2 percent anticipated in the survey of 2013.