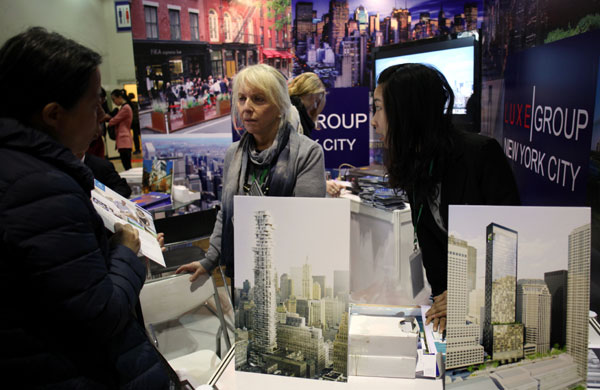 A New York property project display at an international housing exhibition in Beijing attracts investors. Continually rising prices and tightening measures are pushing more Chinese investors to seek opportunities overseas. [Photo / China Daily]
About 50 million Chinese people are living overseas at present, according to the Beijing-based Center for China and Globalization
Investment and education are the main drivers of Chinese migration. Four countries - the United States, Canada, Australia and New Zealand - are the most popular destinations, the center said. The expanding number of Chinese emigrants is creating business opportunities for a range of industries.

Chinese investors are increasingly looking at the big picture.
It took Sara Wang two days to decide to buy a two-bedroom apartment in London in October.
The 35-year-old executive in a joint venture enterprise acquired the home only as an investment.
She already has two apartments in Beijing, which means she isn't allow to buy any more properties in the capital. And soaring property prices in China also make her worry about growing investment risk.
She paid the equivalent of 4 million yuan ($645,160) for the apartment in suburban London. The down payment was 30 percent. She expects to rent it for about 12,000 yuan per month.
The purchase, Wang said, was a good deal based on the price-to-rent ratio and relatively low monthly payments.
If she wanted to buy another apartment in China, she wouldn't be able to get a mortgage, as she took out mortgages for her first two apartments.
In any case, the rent for a 4 million yuan apartment in Beijing would only be about 7,000 yuan now.
"Moreover, in London, I get a 999-year lease. But in China, I paid for 70-year use rights," Wang added.
Continually rising prices and tightening measures are combining to push more Chinese investors to seek overseas opportunities.
Chinese buyers are the most influential in the world's prime markets for new housing, according to Knight Frank LLP's latest Global Development Insight report on the spending habits of affluent individuals around the world.