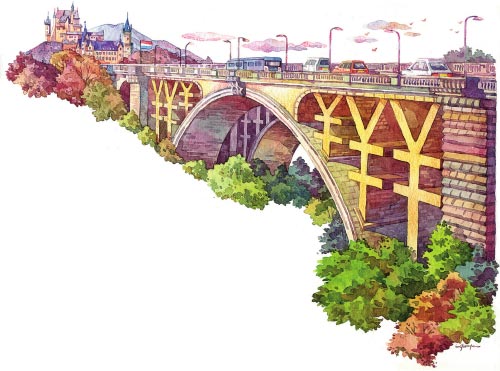 Grand Duchy sets its sights on being European hub for renminbi trade
Although the renminbi has attracted a host of suitors from across the world, it is banking on a small European nation to boost its global standing as an investment currency.
Move over London, Frankfurt and Paris. The Grand Duchy of Luxembourg, a tiny land-locked Western European nation, seems to be far ahead of others when it comes to attracting renminbi business in Europe, sources say.
"Luxembourg has played a key role in increasing the liquidity of the Chinese currency globally," says Nicolas Mackel, chief executive of Luxembourg for Finance, an agency that works for the development of the financial sector in Luxembourg.
The Grand Duchy, which hosts the European headquarters of three major Chinese lenders, has issued 44 renminbi bonds to date and is home to a growing number of renminbi-focused funds. Unlike London, Frankfurt and Paris, which boast of natural advantages such as bigger trade flows with China and familiarity with investors, Luxembourg is banking on its position as an important investment and finance hub in Europe.
According to sources, cities such as London have not been that popular with Chinese lenders because of the unfavorable environment and strict regulations. London has issued only four renminbi bonds to date, although it had a head start over other cities in Europe.
On the other hand, the big concentration of Chinese banks in Luxembourg has ensured that it has become an important part of China's outbound trade, finance, investment and mergers and acquisition deals in Europe. This has also helped boost the scale and liquidity of the offshore renminbi pool in Luxembourg, sources say.
"Luxembourg's trade with China is tiny. But any currency on its way to being a global reserve currency has to be a trade currency and also an investment currency, which is where we come in," Mackel says.