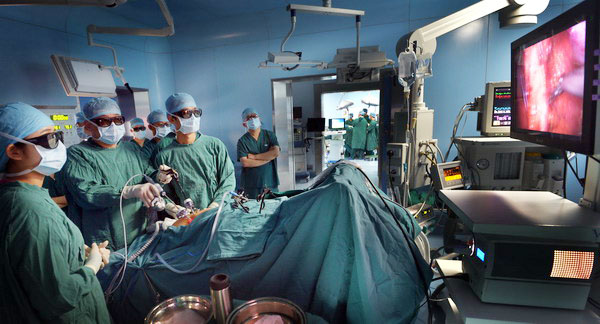 An operation to treat cancer at a hospital in Wuhan, Hubei province. Cancer was the leading cause of death in 2012 in China when 2.7 million people died from it. Hu Weiming / for China Daily
Private healthcare sector boss is passionate about battle against cancer cases in nation
Doing business in real estate or the finance sector in China may be the easiest way to earn money, but Yang Jianyu, chairman and chief executive officer of US-listed Concord Medical Services Holdings Ltd, chose to focus on the nation's healthcare service industry because he sees greater value in it.
Yang and his company joined hands with global leading investment company The Carlyle Group LP and US hospital MD Anderson Cancer Center to set up cancer treatment hospitals in China that will use multidisciplinary diagnosis and care to cure Chinese patients.
Under the terms of its cooperation with Chinese public hospitals, Concord Medical Services now has 144 facilities around China and also owns 52 percent of Chang'an Hospital in Xi'an, Shaanxi province, via an acquisition in 2012. Chang'an Hospital has reached a strategic alliance with Fox Chase Cancer Center to focus on the oncology department. The hospital will be transformed to focus on oncology and other related departments.
"Our next focus is to build three high-end specialty cancer hospitals in Guangzhou, Beijing and Shanghai by ourselves containing the most advanced equipment and multidisciplinary diagnosis and treatment solutions to help Chinese cancer patients. I believe the work is very meaningful," Yang said.
Currently, Concord Medical Services is finalizing design plans for its Guangzhou hospital, which is expected to undergo construction in the first half of this year. The other two are waiting approval from the Chinese government.
Yang said the investment return rate of a hospital is about 10 percent. The annual revenue of a specialist hospital is between 500 million yuan ($81.41 million) and 1 billion yuan.
"Operating hospitals is a long-term business. We have patience," said Yang. "In addition to making profits, I regard it as a meaningful career that brings benefits to people."
Before joining Concord Medical Services, Yang served as CEO of Eguard Resource Development Co Ltd from 2003. The Shenzhen-listed company is mainly engaged in providing solutions for solid waste recycling and sewage treatment.
Yang left Eguard Resources in 2007 and was planning to return to the United States to enjoy family life with his wife and children, but one of his friends asked for his help to run Concord Medical Services.
In July that year, Yang visited a diagnostic imaging center run by his friend in a military hospital. Lots of cancer patients regarded him as a leader of the hospital and stood up to welcome him. Yang saw a strong desire in their eyes to survive, a sight that deeply affected him.