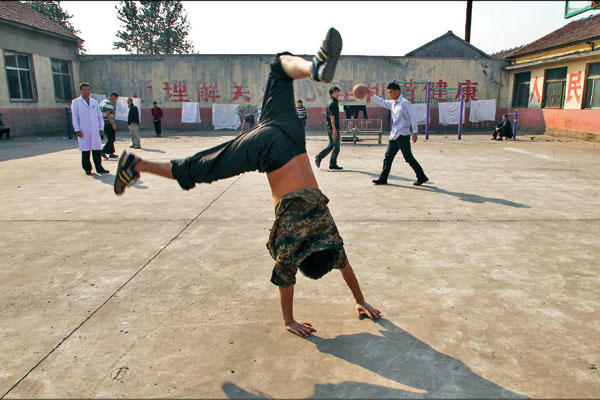 Chinese mental illness patients enjoy their free time under a doctor's supervision in a psychiatric hospital in Weifang, Shandong province. China is making good progress in mental healthcare but many obstacles remain. Xinhua 
Tackling long-standing issues on non-communicable diseases
Depression, dementia, schizophrenia and substance abuse. Such mental health issues affect around 10 percent of the world's population.
As one of the main non-communicable diseases (NCDs), mental healthcare amounts to more than $2.5 trillion globally each year, according to the World Health Organization (WHO).
In China, the ratio is even higher, with 17 percent of the population suffering from mental health problems, equating to almost 200 million people. However, there are only 20,000 psychiatrists in the world's most populous country.
More innovative methods are needed to deal with a severe shortage of mental healthcare resources, experts say.
"Of the current mental illness cases in China, only 5 percent have received psychiatric care by professionals and just 3 percent have received care from general physicians, meaning 92 percent who have mental problems have never received any type of treatment," says Michael Phillips, director of Shanghai Mental Health Center of Shanghai Jiaotong University.
In cooperation with the Ministry of Health, Phillips conducted China's largest mental health census in 2005 which surveyed 63,000 people around the country.
The findings show there is a huge treatment gap between people who need mental healthcare services and care providers, Phillips says, compared with the 30 to 35 percent ratio of people who have received treatment in high-income countries.
"China in many ways is doing better than many other countries," says Phillips, who is also executive director of the WHO Collaborating Center for Research and Training in Suicide Prevention at Beijing Huilongguan Hospital.
"The number of psychiatrists per capita is higher than in India and Brazil, but they are all in big cities," he says, adding that given the huge numbers of patients in China, it is impossible for the existing professionals to provide adequate care to the masses.