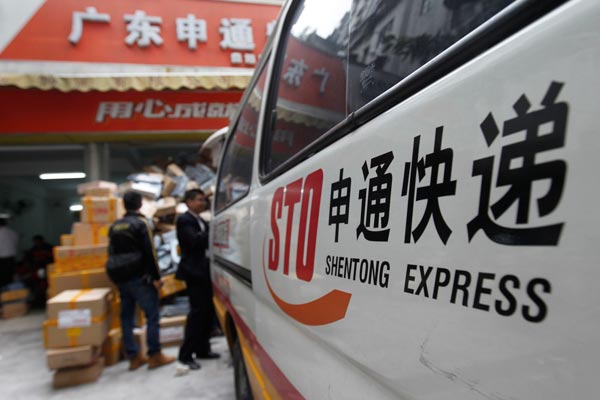 An STO Express Co Ltd delivery vehicle in Guangzhou. STO founded a standalone business unit last September to tap the overseas market. The unit chose Okinawa as the logistics center after a research trip led by Chairman Chen Dejun the same month. Provided to China Daily
Move comes on the heels of firm's subsidiary and website opening in United States
Domestic courier company STO Express Co Ltd plans to establish its first overseas logistics hub in Japan as it expands around the globe.
The move follows the recent launch of STO's website in the United States, which is intended to take advantage of booming cross-border e-commerce, according to company executives.
"This year will mark STO's aggressive foray into foreign markets," Zhang Cunwei, director of STO's overseas business unit, told National Business Daily.
STO founded a standalone business unit last September to tap the overseas market. The unit chose Okinawa as the logistics center after a research trip led by Chairman Chen Dejun the same month.
As the southernmost prefecture of Japan, Okinawa is well-placed to serve as a transit point for destinations elsewhere in Japan as well as China and South Korea. It's within two hours flying time of each of those destinations, Zhang told the newspaper.
The airport in Naha, Okinawa, offers 24-hour cargo facilities and customs clearance. It handles scheduled traffic to key regional airports including Taipei, Macao, Shanghai, Seoul and Hong Kong.
"It means cargo delivery within Northeast Asia can be achieved within 24 hours," said Zhang.
Hong Kong remains STO's largest overseas logistics center, he noted. The company is also poised to enter Malaysia and Singapore in 2014, he added.
The establishment of the Japan hub is in line with a broad, aggressive expansion into the United States. STO registered a subsidiary in Los Angeles last October.
According to its website, STO operates its US unit in partnership with a local delivery provider. It has already launched warehouse services and some parcel businesses in the US.