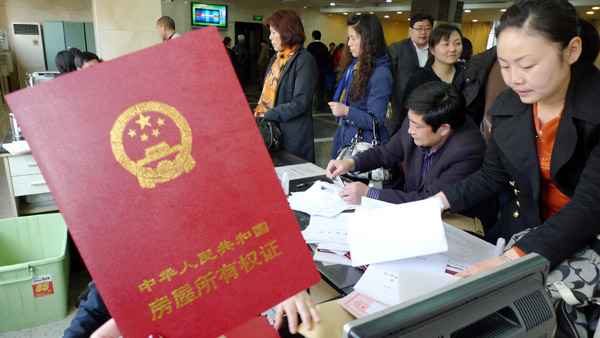 Potential home purchasers complete mortgage applications at a real estate transaction center in Nanjing, Jiangsu province. LIU LI / FOR CHINA DAILY
At least two major commercial lenders denied on Monday that they had stopped extending credit to property developers or suspended loans to homebuyers amid worries over possible debt defaults by some Chinese developers.
On Saturday, media reports said that Industrial Bank Co Ltd had halted loans to realty developers.
The reports also said that Bank of Communications Ltd had circulated an internal memo telling branches to suspend such loans.
On Monday, both banks denied the reports.
Concerns about the stories and associated rumors hit market sentiment on Monday, with the A shares of developers sinking by 8 percent or more.
The daily limit for share movements is 10 percent.
Analysts said credit may be tightened in many sectors after lending surged in the past few months and lenders became more prudent about risk control, but a total loan halt to developers is unlikely.
Qiu Guanhua, an analyst with Guotai Junan Securities Co Ltd, said in a research note on Monday: "Some lenders may suspend realty-related business and put the loans under review until the end of March, when new policies are introduced and implemented."
Although developers are generally optimistic about the market's prospects, there's also an undercurrent of anxiety about possible "volatility" in the policy environment. That's a key factor affecting lenders' and developers' business activity, real estate adviser DTZ's North Asia research team said in a note.
"Developers will become less aggressive in replenishing their land banks, leading to a fall in land purchasing activity in the next 12 months," the note said.
Don't miss: