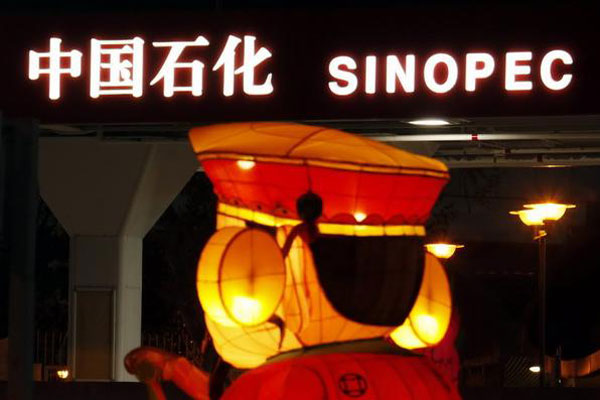 File picture shows a Chinese New Year lantern installation on display outside aSinopecgas station in Hong Kong. [Photo / Agencies] 
BEIJING - China's largest oil refiner's plan to seek social and private capital highlighted the country's endeavors to forge a mixed ownership economy amid further opening-up expectations.
Sinopec, one of China's three oil giants, proposed on Wednesday to sell up to 30 percent of its multi-billion dollar marketing arm to social and private investors.
The stake sale plan was the first move a stated-owned enterprise administered directly by the central authorities (centrally administered SOEs) shared lucrative business with private investors.
Sinopec's marketing division operated 30,532 gas stations across the country as of the end of 2013, and fuel sales stood at 165 million tonnes last year.
China's important sectors are largely dominated by 112 centrally administered SOEs, but the public complain about low efficiency and high welfare mainly resulted from monopoly.
To unleash the vigor of a market economy, the Communist Party of China vowed last November to actively promote mixed ownership and raise non-state share in the economy.
"Sinopec's move is a solid reflection of the central authorities' determination," said Zhang Chunxiao, an expert with the State-owned Assets Supervision and Administration Commission (SASAC).
Li Jin, chief researcher of China Enterprise Research Institute, called the plan "a big step taken by centrally administered SOEs in breaking monopoly and developing mixed ownership".
Mix-ownership benefits
It is not clear whether Sinopec would establish a partnership by setting up a joint venture or just absorbing money like through an IPO and put it in already built business.
Both ways are possible, said Xu Baoli, a senior researcher with SASAC.
"Private investors may bring in industry expertise to run the marketing business in a more professional way, and help better SOE governance," said Xu.
Sinopec's gas stations has issued millions of fuel cards which record part of the holders' buying preference. The refiner, along with future partners like Alibaba or Tencent, could dig gold in products designed based on big data extracted from these cards.
Mixed ownership will also create business opportunities for private companies. Xinjiang Haoyuan Natual Gas Co. Ltd, told Xinhua that it will actively seek cooperations with SOEs as the latter usually have huge consumer bases.
Sinopec shares soared to hit a 10-percent increase limit, shortly after the start of Thursday trading. Other oil companies also enjoyed big gains.
Further opening-ups expected
Although business insiders and experts hailed Sinopec's proposal, Lin Boqiang, an energy expert with Xiamen University, believed the move is not bold enough.
"Many private investors are longing for the access to oil exploration business, which will be a strong signal of an overall reform," Lin told Xinhua.
"China keeps exploration rights under tight control as rampant drilling by private companies may lead to serious ecological damages," said Zhou Fangsheng, an expert on SOE issues, yet adding that China could consider easing crude oil import restrictions.
"The 30-percent stake cap may be eased and private shares in once-monopolized sectors may be rising in the future," said Li Jin.
State-owned capital in sectors like oil, power, automobile and telecommunications may retreat to a just-above-half level, and the percentage may be even smaller in emerging and high-tech industries, according to Zhang.
"The focus of SOE reforms this year will likely be forging mixed ownership," Li predicted.
Sinopec is allowing in private investors