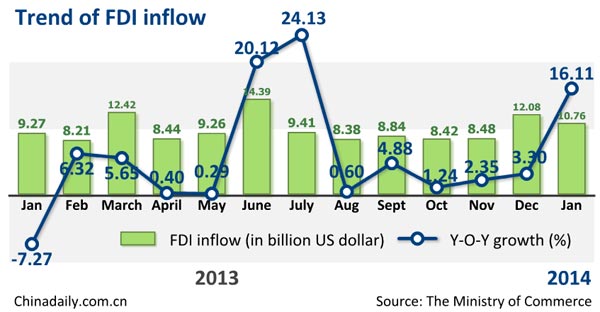 Foreign direct investment (FDI) in China jumped to $10.76 billion in January, up by 16.1 percent year-on-year, indicating international investors remain confident in the world's second-largest economy.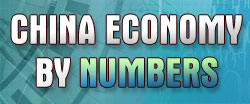 China's FDI growth was 2.4 percent in November, while it rose slightly to 3.3 percent in December. The performance in January beats market expectations and helps reduce worries about a hard-landing by the Chinese economy.
China is trying to re-orbit its economy onto the track of lower growth with sector-wise and cross-regional restructuring well underway. Although its growth has fallen to 7.7 percent year-on-year in 2013, which is far below the 10 percent average in recent years, the economy remains resilient, as is evident, for example, in the latest trade statistics.
International investors have also changed their focus in an effort to keep in tune with the new growth trend. While the scale of FDI in China soared in January, more capital flew into the tertiary industry and the middle and western regions.
About $6.33 billion investment has gone into the country's services industry, according to the Ministry of Commerce on Tuesday. Investment in manufacturing, meanwhile, fell by 21.7 percent year-on-year.
In terms of regional distribution, the middle and western regions saw FDI inflows increase by 89 percent and 72 percent, respectively, year-on-year, while the eastern region saw FDI inflow of just 4.4 percent.
The US tapering of its quantitative easing program is believed to have caused turbulence in some emerging-market economies. It was expected that tapering will see flight of international capital into the United States from emerging markets.
But, as the January FDI figures show, such a hypothesis is yet to materialize — at least for China now.
Instead, the exceptional FDI growth, together with the higher-than-expected growth in exports in January, has sparked market concerns that speculative capital is flowing into China to cash in on the continual appreciation of the renminbi.
We need to monitor more closely in the coming months exactly in what direction the international capital is moving.