Export growth in the landlocked central and western regions will continue to outpace the coastal area driven by ongoing industrial transfers into the inland regions and the government's opening-up strategies in these areas, experts said.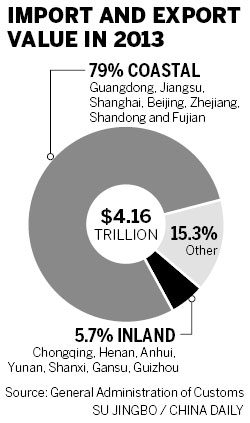 "The coastal area, which was the forerunner of China's reforms and opening-up in past decades, witnessed fast trade growth. But rising costs, including land and labor costs, are driving industrial businesses into the central and western regions with their cheaper utility costs and lower wages," said Zhang Jianping, a researcher at the Institute for International Economic Research at the National Development and Reform Commission.
Zhang added that the transfer of industry would continue in the near future as businesses in China's eastern region as well as in other countries move into China's inland areas, supporting a faster export growth there.
He noted that labor-sensitive businesses, such as textiles, garments and electronic components, as well as labor-intensive industries such as large-scale infrastructure, are the major forces behind industrial relocation to the inland regions. But high-tech businesses are also well-established in some inland cities, including Chengdu, Chongqing and Xi'an.
"Compared with the eastern region, the investment environment of the inland regions is undoubtedly less well-developed. But compared with neighboring countries, it is improving very significantly. As the government keeps improving governmental functions, streamlining investment approvals and increasing transparency, the inland regions will unleash greater potential for investors," Zhang said.
Dai Binxiang, a researcher at Southwest Jiaotong University, agreed, saying the low export base of inland regions also helped aid robust growth after enterprises engaged in export business moved there en masse.
Foxconn Technology Group, a major supplier for electronics giants including Apple Inc, set up a plant in Zhengzhou, in Central China's Henan province, in 2010 and now employs more than 300,000 workers with 90 percent from the heavily populated province. In 2012, the company built a production plant in Chengdu, in Southwest China's Sichuan province, making use of the cheap labor in the region.