Eastern growth gains, western areas decelerate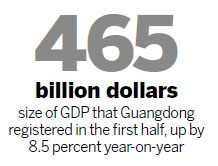 Slowest growth was in Shanghai and Beijing
Provincial economies' GDP growth rates beat the national average of 7.6 percent in the first half, but the most significant development at the local level was a divergence between the eastern and western regions.
Many eastern regions achieved expansion at the same pace as last year, or even faster, while central and western regions, which grew much faster than their eastern counterparts in recent years, saw a year-on-year deceleration.
So far, 30 provinces, municipalities and autonomous regions (except Qinghai province) have released first-half economic data. Even the slowest growth regions, Beijing and Shanghai, beat the national average with 7.7 percent year-on-year expansion.
Local economic growth rates are calculated by local bureaus of statistics, and the aggregate regional figures don't necessarily equal the national total.
North China's Tianjin still led the growth rate stakes with 12.5 percent, followed by West China's Chongqing and Yunnan (both grew 12.4 percent).
In absolute terms, Guangdong province led the nation with 2.85 trillion yuan ($465 billion) in GDP in the first half, followed by Jiangsu and Shandong provinces.
Guangdong grew 8.5 percent, up from 7.4 percent a year earlier. Tianjin's 12.5 percent growth rate was on par with a year earlier. Jiangsu's and Shandong's growth rates slowed, but only by 0.1 and 0.3 percentage point, respectively.
Rising property investment was a major reason for eastern regions' better performance. In Guangdong, property investment grew 23.5 percent to 270 billion yuan, compared with last year's 10 percent expansion. In Shanghai, property investment grew 17.8 percent, compared with 12.7 percent in the first half of 2012.
Tianjin's breakneck expansion was also propelled by rapid fixed-asset investment growth. In the first half, the municipal government announced 170 "mega-projects" with a combined investment of 221.4 billion yuan.
By contrast, the hinterland regions' growth was affected by the macroeconomic slowdown, and those regions face growing pressures in the second half as the central government is still reluctant to roll out a large-scale stimulus package.
Hit by dropping coal prices, resource-rich Shaanxi province's growth significantly slowed to 11.1 percent from the year-earlier 13 percent pace. In the first half, the province produced 223.7 million metric tons of crude coal, up 4.59 percent. The growth rate in the first half of 2012 was 18.1 percent.
The gloomy situation in the coal, oil and gas industries didn't just weigh on the economy; it also affected Shaanxi's fiscal revenue. First-half fiscal revenue only grew 7.27 percent, compared with 20.1 percent a year earlier.
Dragged down by slower growth in the vehicle and steel sectors, central China's Hubei province achieved 9.7 percent GDP expansion in the first half, the first time the region's rate had slowed to the single-digit level in the past decade.
"Many hinterland regions' economies are resource- and investment-oriented, which makes them more sensitive to fluctuations in the domestic economy," said Feng Qiaobin, a public finance professor at the Chinese Academy of Governance.
However, Gao Ruxi, a regional economy expert at Shanghai Jiao Tong University, said eastern regions' performance did not offer sign of relief, either.
Eastern regions "still resort to investment for growth, which is an important reason for their relatively good growth in the first half. Another reason is they did not perform well in the first half of 2012, which meant a lower comparison base," Gao said.
However, the good news for regional economies in the second half is that, while a large-scale stimulus program is unlikely, small stimulus plans are in the works.
Zhu Haibin, chief economist in China with JPMorgan, said that investment in infrastructure construction is likely to see steady growth in the second half, which can support the whole economy.
Also, more reform measures are expected to be introduced in the coming months to inject private funds into fixed-asset investment, especially for railway projects, which can provide new impetus for the growth of the regional economy, Zhu said.
But it is hard for the government to increase fiscal spending significantly or boost bank loans in the next two quarters, he said. Instead, credit may increase at a slower pace, as the cumulative corporate and local government debt, together with excess capacity, may increase potential risks in the financial system.
JPMorgan is forecasting below-target growth of this year's GDP, of 7.4 percent, as downside risks may rise in the third and fourth quarters.