Land reform in rural areas must help raise farmers' incomes, minister says
Despite rising imports, China is committed to feeding its people on its own, though it will also take advantage of the global market, Minister of Agriculture Han Changfu reaffirmed on Friday.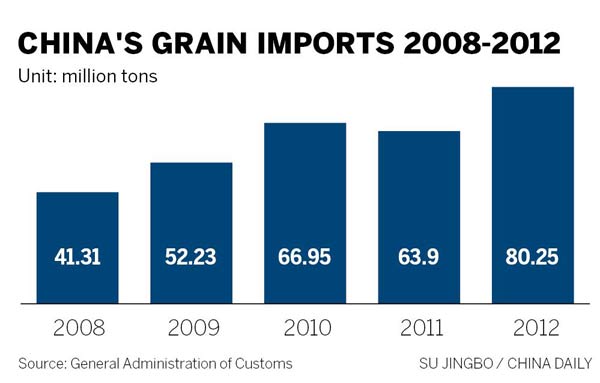 The country's grain output is expected to reach 601 million metric tons for 2013, a record high and the 10th bumper harvest year in a row, Han said, adding that his ministry also has seen a steady growth in farmers' incomes.
"It's true that following consecutive output increases, our grain imports have been rising in recent years," Han said, citing population growth, accelerated urbanization and consumer demand.
Imports were at times used for diversifying varieties, he said. For example, China has sufficient stockpiles of wheat, yet it imports top-grade flour for bread.
Meanwhile, good prices in international markets also spurred procurements, he told a news conference sponsored by the State Council Information Office.
In 2012, the nation imported 2.36 million tons of rice, compared with 590,000 tons the previous year, according to the China National Grain and Oils Information Center.
Being both a big producer and consumer of food, China should count on itself for its food security, Han said.
In terms of grain production, the nation must maintain a self-sufficiency rate of 95 percent, he said.
"Meanwhile, we will also actively use the international market and participate in international cooperation," he said, adding that the government has the ability to solve food security problems domestically.
To maintain stable grain production, the country will guarantee that it has at least 106 million hectares of land for crops each year. The government also will increase incentives for farmers, intensify agro-technology extension services and step up natural disaster prevention and reduction measures, the minister said.
The minister also said land reform in China's rural areas must help raise farmers' incomes instead of allowing more urban construction.
Li Guoxiang, deputy director of the rural development institute at the Chinese Academy of Social Sciences, said the government should be aware that inadequate investment in agricultural infrastructure facilities and large-scale grain production in rural areas could put China's future grain output at risk.
Pushed by the fast pace of industrialization and urbanization, China's agricultural and rural development has entered a new era and is facing a number of challenges, including higher production costs and rising demand for farm yield, Li said.
"Under such circumstances, China should help family farms to become intensive, specialized and large-scale agricultural operations," he said.
Li Maosong, director of the Chinese Academy of Agricultural Sciences' agriculture information office, said flagging interest in farming among rural residents and the country's overall fragile ability to fight natural disasters could affect grain output in the future, he said.