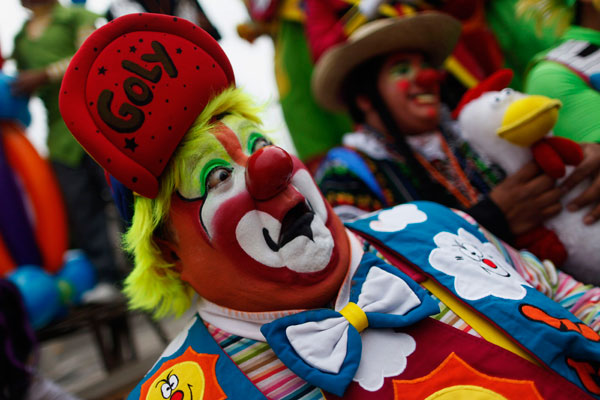 "Goly", a clown, laughs for fifteen minutes as he rally for peace during the 18th Latin American clown convention or "Fair of laughter" at the Mother Monument in Mexico City Oct 23, 2013. [Photo/Agencies]
GUANGZHOU - Chinese enterprises are diversifying their investment in Latin America beyond raw materials as economic cooperation between the two sides increases.
At a trade forum in South China's Guangzhou city, Xu Yingzhen, of the Ministry of Commerce, said Latin America's ongoing efforts to improve infrastructure were bringing opportunities for Chinese companies to enter their markets, particularly Brazil's new industrial policy, Mexico's energy reform and Cuba's special economic zone.
Jorge Quiroga, former President of Bolivia, looked forward to all-round cooperation with China, especially in high value-added sectors beyond raw materials and primary products.
Sino-Latin America trade increased substantially in the past decade. By the end of 2013, $80 billion had flowed from China to Latin America, 13 percent of China's total global investment. The region is a major investment destination for Chinese enterprises.
Liu Xia of the NDRC, expects increased cooperation between the two sides as China opens up and Chinese entrepreneurs explore the overseas market.
Liu reckons investments of over $500 billion will flow out of China in the next five years.
Chinese companies expect more overseas contracts
Latin America offers way out of demand doldrums