Tourist boom reflects employment stability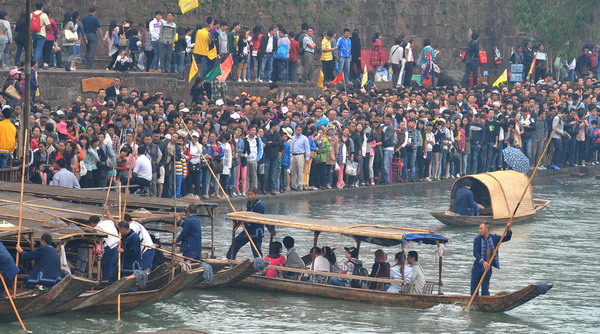 People wait to board tour boats to visit the Fenghuang ancient town scenic area in Fenghuang, central China's Hunan province, Oct 4, 2013. Numerous tourists pack into Fenghuang during the week-long National Day holiday.  [Photo / Xinhua]
BEIJING -- While some people complain of tourist overcrowding having turned China's seven-day Golden Week into a "golden mess", economists have interpreted the phenomenon in a more positive way.
"The strong Golden Week tourism data suggests, firstly, stable employment, rising wages and robust consumer confidence," Lu Ting and Robbie Li, China economists with Bank of America Merrill Lynch, said in a research note.
Strong data also indicated a rebalancing from savings/investment to more consumption, an upgrading of consumption from necessities to leisure and luxury goods, better infrastructure to handle and accommodate the rapid rise of tourists, and the low probability of growth hard-landing on robust consumption, according to their research.
The research note said China may see some moderation in year-on-year GDP growth in the fourth quarter due to a high comparison base, but the likelihood of it seeing a sharp slowdown is low. Lu and Li expect year-on-year GDP growth to rebound from 7.5 percent in the second quarter to 7.9 percent in the third quarter, and then slow to 7.7 percent in the fourth.
For Tuesday and Wednesday, the first two days of the national holiday, the tourist industry recorded good business. The number of visitors to China's top 125 tourist attractions reached 8.4 million in the first two days of Golden Week, up 18.8 percent year on year, after adjusting for the difference in surveyed attractions.
In comparison, year-on-year growth in Golden Week tourists was 21 percent in 2012, 8.8 percent in 2011 and 6.5 percent in 2010. Total tourism revenue from these attractions jumped 26.6 percent year on year to 437 million yuan ($71 million).
Since the holiday kicked off on Tuesday, relatively comfortable weather across the country, toll-free expressways, admission ticket discounts, and lower gas prices have combined to make this so-called Golden Week theoretically the best time for traveling.
As a result, however, the country's highways have become clogged, high-speed trains have struggled to take the strain despite shuttling with the minimum possible intervals, and armed police have had to be summoned to help evacuate stranded crowds.
Lu and Li also explained the reasons behind the explosion in tourist numbers.
First, they said, China's employment levels have remained stable recently and wages have been rising. Economic growth will likely rebound to 7.9 percent year on year in the third quarter from 7.5 percent in the second. Average wage growth was still robust at 10.7 percent in the first quarter, with wage growth among workers in the private sector (including most migrant workers) at 15.9 percent.
Second, the report authors pointed out, notable policies have lent support to independent traveling, especially self-drive tours. Like last year, highway tolls have again been waived for vehicles with seven seats or fewer and the National Development and Reform Commission cut fuel prices by 2.8 percent on September 30, right before the Golden Week holiday.
Third, according to Lu and Li, the great improvement in transport infrastructure, especially high-speed railways and highways, has played an essential role in providing cheaper, faster and more convenient ways to get around. The rapid growth of hotels including chain budget hotels also makes traveling more affordable and comfortable.
Fourth, they suggested, independent trips could have been partially bolstered by the wealth effect as home prices have been soaring so far this year. The A-share stock market is slightly down by 4.2 percent from the end of 2012, but it should have little impact on household wealth as stockholding is a very small part of the average household's bank deposits.