Watchdog bites with no favor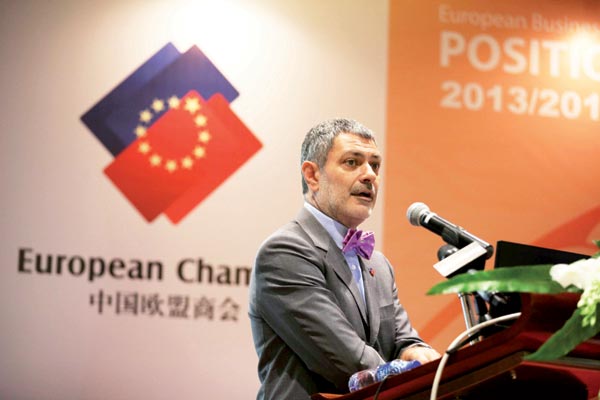 Davide Cucino of the European Chamber of Commerce in China has raised questions over inquiries. Wang Jing / China Daily
Talk of unfair treatment wrong, say experts
Foreign companies are not being singled out for scrutiny in pricing investigations, and recent steps do not pose heightened business risks for enterprises in China, experts say.
However, several organizations such as the European Chamber of Commerce in China feel the dice are often loaded against foreign companies and business risks are steadily increasing in China.
"In pricing investigations, some of the chamber's member companies believe there is disproportion in how foreign companies are covered on this issue when compared with Chinese rivals," says Davide Cucino, president of the chamber.
Jeremie Waterman, executive director for China policy at the US Chamber of Commerce, the largest US business lobby group, says that though the Chinese anti-monopoly authorities have started several cases against Chinese companies, nearly all large state-owned enterprises have been exempt from enforcement actions to date.
But officials with the National Development and Reform Commission, China's top economic planner, dismiss such charges, saying that "there is no such thing as specially targeting foreign companies. Our investigations focus on monopolistic conduct, and not on the entities behind it".
European concerns
Some industry insiders say fines imposed on dairy suppliers over pricing issues and the bribery investigation into drug manufacturers GlaxoSmithKline and Sanofi have all been blown out of proportion.
However, it is clear that the recent steps have rattled several European businesses operating in China: The half-green, half-red instructional sign at the chamber's Beijing office is not something that is striking. Tucked away in the corner of a meeting room, it is not uncommon now to see company officials poring over the fine print to gauge what is permissible and what is not permissible in China.
The chamber represents about 1,700 European businesses across a vast range of sectors and has 30 working groups, each focusing on issues such as aviation, agriculture and human resources, but it has been the topic of the sign, antitrust and competition laws, that has dominated discussion recently.